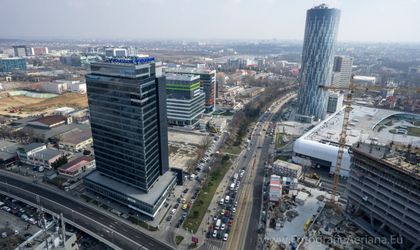 At a superficial view, there are only two of them: NEPI Rockcastle and Globalworth Real Estate. Both started in Romania, both have foreign shareholders, and both have extended beyond the border. But there are a few other investors whose portfolio is getting close to EUR 1 billion, such as Immofinanz, AFI Europe, Romanian developer Iulius, or Prime Kapital.
The largest investor on the Romanian market is NEPI Rockastle, with a portfolio valued at around EUR 1.9 billion. The company owns assets of 841,000 sqm, most of them retail properties, as well as a few office buildings.
This year, NEPI Rockcastle is investing EUR 100 million in developing a 42,200 sqm mall in Sibiu, a project acquired with EUR 21 million at the beginning of the year. Also under construction are the extensions of Sibiu Shopping City, of 9,600 sqm, and Aurora Mall in Buzau, by 5,400 sqm.
Furthermore, the developer is planning to expand the 62,000 sqm of Promenada Mall in Bucharest, and another mall will be built in Tirgu Mures, with an area of ​​33,600 sqm in the first phase.
Globalworth Real Estate, the office king
The office king in Romania is Globalworth, a company launched by Greek businessman Ioannis Papalekas in 2013. In just five years, through developing buildings and taking over office projects, the company reached a 923,000 sqm office surface in Romania and Poland, valued at EUR 2.13 billion, of which EUR 1.2 billion in Romania.
The company has also established a collaboration with Mindspace, the global operator of high-end, inspiring coworking spaces, and expanded their business relationship Romania, with three new locations to be opened at Globalworth properties in Bucharest. Globalworth invested USD 10 million in Mindspace to support their ongoing growth.
Within its development programme, the company completed Tower 2 of its Bucharest Globalworth Campus project in Q2-18 and has now commenced the construction of the 34,800 sqm third and final tower, which is due for completion in Q4-19.
Development of the company's 42,300 sqm Renault Bucharest Connected joint venture is progressing and is set for completion in Q1-19. In addition, plans are being progressed for a further 130,000 sqm of new office projects in Bucharest and up to 175,000 sqm of light-industrial and logistics projects in Timisoara.
AFI Europe owns the EUR 545.5 mln mall AFI Cotroceni
AFI Europe is the third largest investor, with properties of around EUR 815 million, but it has the most diversified portfolio. In Romania, AFI Europe owns the most valuable real estate in Romania, the AFI Cotroceni mall, valued at around EUR 545.5 million as of June 2018.
The company also owns the AFI Park office project, close to AFI Cotroceni, worth around EUR 175 million, and AFI Ploiesti, at around EUR 67 million.
Moreover, the company is currently developing the mall and office mixed-use project AFI Brasov, office project AFI Tech Park and its first residential project in Romania, AFI City, with 190 housing units in the first phase of the construction.
Immofinanz, owner of the myHive brand 
Immofinanz has an portfolio evaluated at around EUR 807 million.
The company, active in Romania since before the crisis from 2007-2008, discarded some of its assets, lost around EUR 200 million of its value, selling part of the lands of the Adama residential developer, and three industrial and logistics properties, acquired by Blackstone back in 2016 for EUR 536 million.
Immofinanz now owns nine office buildings (13.8 percent of the entire office portfolio) and six retail properties (22.4 percent of the entire retail portfolio) in Romania.
The company launched the brand myHive for its office buildings and Vivo and Stop Shop for its retail properties.
Iulius, the only Romanian developer
Iulius company started with the Iulius Mall network, located in Iasi, Cluj-Napoca, Timisoara and Suceava, but the company's portfolio has developed in time, to Palas Iasi, the EUR 240 retail and office project, and Openville the EUR 220 million office and retail project in Timisoara.
Even if the company has never reported the value of its portfolio, BR can estimate it around at least EUR 750-800 million.
The company owns 345,000 sqm but the surfaces are growing, especially for offices, as the company has developed the United Business Center offices brand, present in Iasi and Timisoara.
According to company owner Iulian Dascalu, who sold half of the retail assets to Atterbury Europe in the first quarter of 2017, the company's investments on the Romanian real estate market are around EUR 620 million.
Prime Kapital: the newcomer
Prime Kapital is the baby of Martin Slabbert, who created NEPI as well. The South African left NEPI and created Prime Kapital, and returned to the Romanian real estate market where he is developing projects worth EUR 775 million.
The company is working in partnership with another South African investor, Mas REI, and together they acquired the only income property, the Militari Shopping Center, for which the investors paid EUR 95 million.
Prime Kapital's first residential project will include around 400 units and the total investment will be close to EUR 100 million. The company owns seven retail properties, all in development or extension/upgrade in Iasi, Pitesti, Targoviste, Balotesti, Ploiesti, Baia Mare and Roman with a total lettable surface of 291,000 sqm.
The company also owns the Value Centers portfolio, which consists of several community and neighborhood shopping centers in various smaller Romanian cities.
The most important project for the company seems to be the Era Shopping Park in Iasi, which will become Mall of Moldova. There are 100,000 sqm of retail, of which Prime Kapital owns 77,000 sqm and is investing as part of a joint venture with Mas Real Estate.