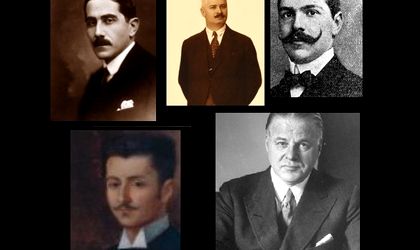 As Romania celebrates its 100th anniversary as a united country in 2018, BR takes a look at the most successful people who contributed to making Romania's entrepreneurial spirit what it is today. 
Nicolae Malaxa
Malaxa was born in 1884 in Husi and studied at the Karlsruhe Polytechnic in Germany. In 1921 he opened a repair workshop for train locomotives and carriages. His business was very successful, so in 1923 he builds a large factory – the Faur plants.
Malaxa becomes one of the main beneficiaries of governmental decrees which supported Romanian industry, and in 1927 he got an advance payment order to build the first Romanian locomotives.
The Malaxa factories were some of the most modern in Europe, at a time when heavy industry in Romania was almost non-existent and the country was mainly agricultural.
Meanwhile, his businesses expanded to other sectors and he owned significant shares for a number of large Romanian companies. Despite a good relationship with the new communist regime in the beginning, in 1948 all his companies were nationalised and he went to the US, where he had already transferred a lot of his fortune. He died in 1965 in New Jersey and did not have the same success in the US as he had in Romania.
Max Auschnitt
Born in 1888 in Galati, his father was the owner of a small factory. After graduating the Commercial Studies Academy in Vienna, Max returned home and founded a nails and chains factory in 1910. At the end of WWI, he formed the Titan-Nadlac-Calan group, which included the Galati rolling mill and several other metallurgical plants.
Max was later delegated as an administrator of the largest interwar company in Romania, the iron manufacturing plants in Resita, which had a capital of over a billion lei and over 22,000 employees. Auschnitt was also involved in many other companies, including the Romanian Telephone Society or the Chrissoveloni Bank, and had many real estate properties.
Following a huge scandal with Malaxa, he was arrested and convicted to six years in prison. After the abdication of King Carol II, he was set free, but didn't get involved in big business. He died in 1956 in New York, where he went after the communist rule started in Romania. His heirs got around 40 million dollars in shares and several properties as damages.
Aristide Blank
The first Romanian graduate of the Commercial and Financial Sciences Academy in Viena was born in 1883 in Bucharest. His father was an associate of the notorious financier Marmorosch. In 1914, he entered the management of the Marmorosch-Blank bank, which had financed Romania's war efforts in 1877, and developed the bank at an international level.
In 1923, Marmorosch-Blank had 25 branches in the country and others in Paris, Istanbul, New York and Vienna. Blank also bought significant land areas in northern Bucharest and invested in newspapers, and from 1930 onwards he became the economic counsellor of King Carol II. Surprisingly, the bank defaulted in 1931 and couldn't even be saved by the King's intervention.
A poet and a theatre enthusiast, Blank stayed in Romania until 1958, when he was convicted to 20 years in prison by the communists. He used his relations to escape and died in 1960 in Paris.
Jean Mihail
Born in 1875, Jean Mihail has been called the richest Romanian in history. He was the son of the biggest land owner in Oltenia, Constantin Mihail. Besides the inheritance he got from his father, he also had two rich aunts, and he ended up owning huge amounts of land.
Besides properties, he also had one of the largest liquidity fortunes, at around one billion lei – the equivalent of over 9 tonnes of gold at the time. He had so much money that when the financial crisis started, he could be the Romanian state's guarantor for several foreign loans.
Jean Mihail died in 1936 and had no children – he left his fortune to the Romanian state. According to his will, the state had to sell his land to farmers, in small pieces and at a convenient price, and use the money to build schools, hospitals and churches. This did not happen, and most of his fortune was wasted.
Dumitru Mociornita
Born in 1885 to a poor family in Prahova, Dumitru Mociornita studied at the Superior Trade School in Bucharest, and later at the Superior Industry School in Paris. While he studied in Paris, he became interested in the management experiments done by Taylor, Ford or Krupp. After his studies, he worked as a commercial representative of a chemical products company in Hamburg.
After returning to Romania, he meets his future father in law, Grigore Alexandrescu, a well-known business man in the shoes industry. At 24, he was managing Alexandrescu's firms, but as WWI begins he finds himself on the battlefields.
In 1925, he founded the Mociornita shoes factory at the edge of Bucharest, which became one of the best performing leather factories in the interwar period. After 1931, he expanded his sales and distribution networks in many other cities in the country.
In the years before WWII, he starts having health issues and delegates roles and attributions to his sons. As communists take power, Mociornita refuses emigrate and remains in the care of his daughter. He gets convicted to prison together with one of his sons and dies from his illness in 1953.