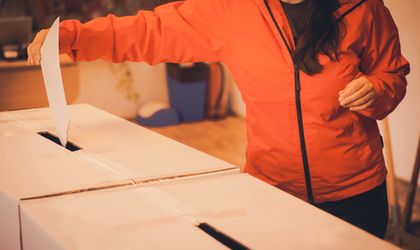 Sunday marked the deadline when contenders in Romania's upcoming presidential election each had to submit 200,000 signatures supporting their candidacy to the Central Electoral Bureau (BEC). Ten people have managed to collect the required number of signatures.
In the past few weeks, more than 20 individuals had stated their intent to run for president, but many failed to get the 200,000 signatures or gave up on the process in the meantime.
The campaign officially begins on October 12, though the streets have been filled with banners and ads for several weeks now. The first round of elections will take place on November 10, followed by the run-off between the top two candidates on November 24.
The 10 candidates are:
Klaus Iohannis (PNL)
Incumbent Romanian president Klaus Iohannis, who was first elected in 2014 following a runoff contest with then-PM Victor Ponta, is the candidate of the National Liberal Party (PNL). He submitted the largest number of signatures of all this year's candidates – 2.2 million. Iohannis has led recent opinion polls by a wide margin, with over 40 percent of the voting intentions according to IMAS.
Viorica Dancila (PSD)
The current prime minister of Romania and the leader of the Social Democratic Party, Viorica Dancila, submitted 1.4 million signatures to the BEC last week. The most recent IMAS poll found Dancila with less than 10 percent of support, which could mean that the PSD candidate risks being left out of the second election round for the first time ever.
Dan Barna (USR-PLUS Alliance)
Dan Barna, the head of the Save Romania Union (USR), submitted 400,000 signatures to the BEC on Friday, and accused president Iohannis of not having used all his power to fight against the PSD, saying that Romania needed a change. Polls have put Barna in second place, but at a significant distance from the current president, with less than 20 percent.
Mircea Diaconu (supported by ALDE, PRO Romania)
Mircea Diaconu, an actor who held a term in the European Parliament, is running as an independent candidate, but has secured the support of parties ALDE, led by former Senate president Calin Popescu Tariceanu, which recently left the ruling coalition it formed with the PSD, and PRO Romania, led by former prime minister and presidential runner-up Victor Ponta. Diaconu submitted over 400,000 signatures to the BEC, claiming that he had actually collected many more, and suggested that he was the candidate who will fight against the "parallel state".
Theodor Paleologu (PMP)
Paleologu is the candidate of the People's Movement Party founded by former president Traian Basescu. He held two MP terms between 2008 and 2016 and was the Culture minister in the Boc government, but had not been politically active since. Paleologu submitted 360,000 signatures to the BEC.
Kelemen Hunor (UDMR)
Kelemen Hunor, the leader of the party representing the Hungarian minority in Romania, arrived at the BEC office on Saturday on an electric scooter and said that he would be a strong supporter of environmentally-friendly policies. He said his campaign would be focused on respect as the most important value for Romanian society. It is Kelemen Hunor's second run for president, after getting 3.5 percent of the vote in 2014.
Ramona Ioana Bruynseels (PPU)
Ramona Ioana Bruynseels is a new figure on Romania's political scene, representing a party founded by former senator and Intact Media Group owner Dan Voiculescu. Her campaign released white doves upon her exit from the BEC office, to signify "a new chance for Romania". Bruynssels has worked as a state secretary and state advisor in previous PSD governments and is a Harvard graduate.
Alexandru Cumpanasu (independent)
Cumpanasu is the uncle of 15-year-old Alexandra Macesanu, who was kidnapped and brutally murdered by a man in Caracal in July. Since the tragedy, he has been on TV on a daily basis, spreading theories about supposed criminal gangs who engage in human trafficking, claiming that his niece is still alive and that he should be president in order to get to the bottom of these conspiracies.
Catalin Ivan (ADN)
The former PSD MEP was a rather surprising addition to the list of candidates, as he hasn't been getting a lot of public attention. Nevertheless, he submitted over 235,000 signatures last week, saying that his run was an opportunity to promote his political project, the Alternative for National Dignity Party, which he claims is a fresh alternative to the current political class.
Viorel Catarama (DL)
Businessman Viorel Catarama is running as a member of the Liberal Right party and his candidacy was approved last-minute through a Constitutional Court appeal after an initial rejection by the BEC, which found that almost half of his signatures were non-compliant