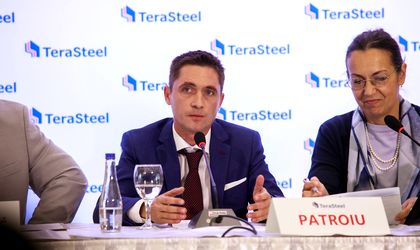 TeraSteel Serbia, the first factory with private Romanian capital opened abroad after 1990, has opened a new production line for thermal insulation panels with mineral wool at its one year anniversary on the Serbian market.
TeraSteel Romania, one of the most important producers on the market of thermal insulation panels and galvanised structures, entered the Serbian market in October 2017. The value of the products delivered and up until now by the factory exceeds EUR 13 million. The annual production capacity of the Serbian factory stands at 2.2 million square meters of panels.
According to company representatives, the Serbian factory has become an important exporter in the Balkan region thanks to the performances recorded in the first year of activity. In the first year of production, the production unit of TeraSteela produced over one million square meters of thermal insulation panels and over 70,000 meters of coated self-supporting sheet metal, totalling more than EUR 13 million.
Total investment in the TeraSteel Serbia totals EUR 6 million so far. The latest investment of EUR 200,000 targeted the purchase of a production line for self-supporting sheet metal, and starting this autumn it will start production of thermal insulation panels. For the latter, the company aims to target a production of 300,000 square meters in 2019.
"Alongside the financial investments, in TeraSteel Serbia we have invested energy, time, people and know-how. Out capacity to answer the need of the market we are active on and the strong team have made us one of the most performant and flexible companies in the Balkan area," Cosmin Patroiu, CEO TeraSteel said.