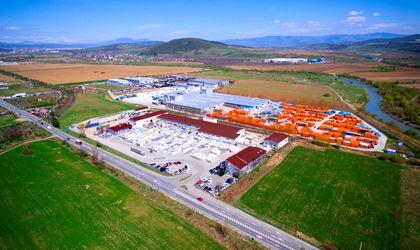 TeraSteel, part of one of constructions materials and installations manufacturer Teraplast, estimates an increase in turnover by 23 percent to RON 154.9 million this year and a profit of RON 11 million.
In 2016, TeraSteel registered a turnover of RON 125.7 million, a growth by 8.4 percent compared with 2015. Moreover, the exports value of TeraSteel was by 27 percent higher than 2015.
"The estimated evolution for 2017 will be supported by the clients portfolio, both on the internal and external market. We also aim to increase the sales share on zincate structures, a business line which began in 2013," said Dorel Goia, president of the Administration Council of TeraPlast.
"Romania also needs an infrastructure development of agriculture stocks, especially from the point of view of logistic spaces, we have a deficit compared with the other countries from EU. We plan for the next months to develop new products, in partnership with our strategic suppliers," said Goia.
The growth for this year is also determined by the acquisition of the sandwich panels producer from Serbia, Interlemind, by Teraplast. This plant has a production capacity of 2.2 million sqm/year.
"Once with this acquisition, TeraSteel will grow its exports," concluded Goia.