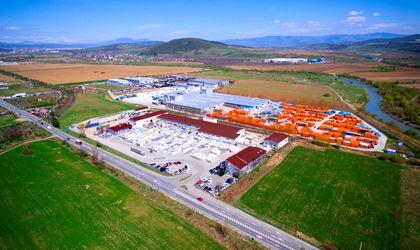 Teraplast group, the Romanian PVC operator and one of the main materials producers for constructions market, registered a turnover fall of 11 percent to RON 171.6 million in the first semester of the year, compared with the same period of 2016, and continues to be profitable, despite the unfavorable context of the blockage of environment infrastructure and the insolvency of some clients, reaching a net profit of RON 7.8 million.
The EBITDA in the first semester of the year was RON 18.3 million, a drop by 35 percent compared with the same period of 2016.
A positive contribution to the consolidated revenues evolution was brought by TeraSteel, which in the first half of the year made a turnover of RON  64.8 million, a growth by 22 percent compared with the same period of 2016.
Teraplast group has an investments budget of RON 84 million this year.
Cosmin Patroiu, general director of TeraSteel, said: "The growth of the presence on the Balkans markets is a natural evolution. For 2018, TeraSteel Romania and Serbia estimate a turnover of RON 250 million. In the next half of the year we expect that through the consolidation of Depaco/Wetterbest to compensate the drops in infrastructure market in the the consolidated balance sheet of Teraplast group. In the first half of the year, Depaco registered a turnover of RON 71.17 million, a net profit of RON 5.5 million and EBITDA of RON 7.4 million."
Teraplast group includes the company Teraplast, the subsidiaries TeraSteel and Terasteel Serbia, Teraglass, Teraplast Logistic, Teraplast Hungary, Politub and Depaco.
"The new products launch represents also an important  in the development strategy of the company. The growth rhythm of Depaco, over the market average, will be maintained in the second half of the year," said Valeriu Irimescu, general  director of Depaco.
Mirela Popa, the general director of Teraplast, said there was an issue with the lack of public infrastructure projects.
"Romania got in the first five months of 2017 EUR one million from EU structural funds for the financial period 2014-2020, which corresponds to an absorbtion of 0.004 percent of the overall allocated amount for the current financial year. Romania won't receive money anymore in the next period. In this context, none of the 43 new projects of environment infrastructure passed on the next stage of work contracts sign," said Pop.