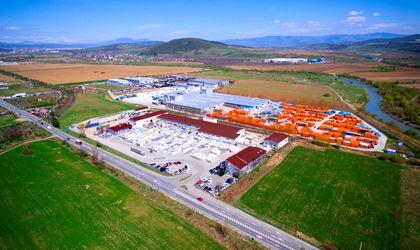 TeraPlast group, one of the most important PVC processor in Romania and one of the leading manufacturers of building and installation materials, closed 2017 with a EBITDA of RON 41 million. The group estimates a growth of over 100 percent of EBITDA in 2018, after big investment in 2017 in important acquisitions, which will contribute to the group's financial results in 2018, according to the group
The important acquisitions by the company in 2017 were the stake of 67 percent in Depaco, the sandwich panels factory TeraSteel Serbia, the Politub business and the PVC recycling factory.
TeraPlast group aims a turnover of over RON 900 million in 2018.
The group posted a turnover of RON 427 million in 2017, an year-on-year growth by 7 percent.
Mirela Pop, general director TeraPlast: "We entered 2018 in top 10 European recycling operators and a portfolio of products structured so that we can respond to the current market challenges."
In 2017 there was a series of important events in the group's development. Among these, are the acquisition of the sandwich panels producer Interlemind in Serbia, following an investment that exceeded EUR 6 million. This is the first foreign factory opened after 1990 and under the full ownership of a Romanian firm. In 2018 the factory TeraSteel in Serbia aims to sell the products in value of EUR 28 million.
Also in 2017 the group registered a record for the acquisition of the stake of 67 percent from Depaco. TheraPlast took over the control of Depaco in January 2018, after the approval of the Competition Council.
Depaco was consolidated as subsidiary starting January 2018.
Cosmin Patroiu, general director TeraSteel: TeraSteel Serbia generated EBITDA from the second month of production. With the factory from Serbia, we operate on a market of EUR 160 million. We aim for 2018 a market share of approximately 20 percent. For 3 years we export in Serbia, therefore we have solid knowledge on this market".