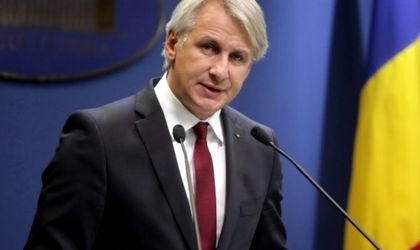 Romanian Finance minister Eugen Teodorovici spoke at the ECOFIN meeting in Bucharest on Saturday about the mobility of European workers as well as the achievements Romania has had so far during its Presidency of the Council of the EU.
On the issue of EU citizens working abroad in other EU countries, Teodorovici  said: "People who work abroad contribute to the GDP of their country of origin. For years, that has been happening in Romania as well. However, workforce mobility can also have some negative effects, in the case of selective mobility, which leads to a brain drain and lowers the potential for growth. In the near future, our priority should be to find a common European solution and to implement an instrument that helps us resolve this issue."
He also briefly summarised what the Romanian EU Presidency has achieved so far on issues related to economics and finance.
"Our review of the first half of the term is quite impressive: 15 legislative files closed after 65 trilogues with the European Parliament; Council agreements obtained for 6 legislative files and one non-legislative one; 3 ECOFIN councils and 95 working group meetings to close these files and make progress in those files you'll hear about in the following months. I've always said that it's better to promise a little and do much more and that's exactly what we did at the Finance Ministry," said Teodorovici.