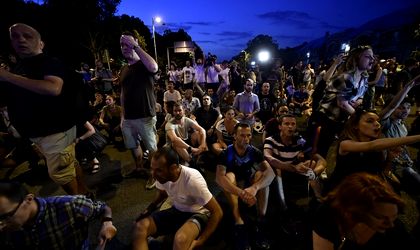 About 4,000 people protested last night in Bucharest against the changes made by the Parliament to essential justice laws. Protesters also gathered in other major Romanian cities like Cluj, Sibiu, Timisoara, Iasi and Brasov, all chanting against "thieves" and demanding the resignation of leaders in the PSD-ALDE coalition.
The gendarmes in Bucharest, equipped with intervention and riot gear, made several arrests after some protesters became agitated and were accused of blocking traffic on streets around Victoria Square. Some activists have accused the law enforcement officers of being too aggressive and of arresting innocent people.
German journalist Paul Wagner was also arrested despite wearing a visible press pass around his neck. He was later released, but posted on Facebook that he was suddenly taken away by gendarmes while he was filming the protest. He also suggests that the law enforcement officers overreacted and caused "diversion and chaos" at this protest, while they were absent from the huge protest organised by PSD two weeks ago.
Paul Wagner also wrote on Facebook that he received contradictory accusations from several gendarmes and that he only saw it as an intimidation strategy.
Photo: Agerpres