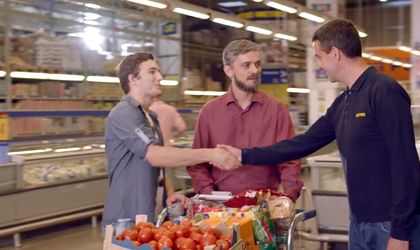 Tempo Advertising has worked on a campaign with retailer METRO, which is celebrating 20 years of operation of the local market.
"The anniversary campaign says the story of two businesses that can represent each one of the two parties – clients and partners. 'Matei si fiul' (Matei and the son) is a family business, a store that will grow from one year to another and passed from one generation of entrepreneurs to another, while 'Vagonul de Gatit' (The cooking wagon) is a restaurant born from its passion for cooking and the flair for business of the two partners," said Razvan Mitoiu, creative director Tempo Advertising.
METRO and Tempo chose this time an emotional, very close to consumer approach, in which storytelling becomes an important component, transmitting warmth and innocence. In case of the "Matei and son" spot the focus is on the family, heritance and values passed from one generation to generation.  Under the warm tone of voice, METRO makes the connecting smoothly and beautiful between the past and the present, through the headline "METRO sustine micile afaceri de atunci si acum" (METRO supports the small businesses from way back and now – e.n.).
The campaign rolls nationally on TV (through two executions for Horeca and Traders), radio, print, OOH, online and other special projects.
The Tempo Advertising team that worked on the campaign comprised: Razvan Mitoiu (Creative Director), Viorel Holovaci (Senior Art Director), Dragos Fratila (Senior Copywriter), Adriana Chirtu (Copywriter), Mihai Preotu (Head of Strategy), Bogdan Ivascu (Group Account Director) and Andra Sania (Senior Account Executive).
The METRO team included: Stratos Tsikmis (Head of Branding) and Ionelia Diaconu (Brand Communication Manager).
The two TV spots were realized in collaboration with Multimedia Est and were directed by Hypno.
Romanita Oprea