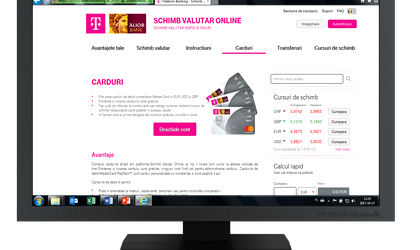 Telekom Romania has partnered with Polish bank Alior Bank in order to launch Telekom Banking, a new digital financial service.
The service offers for a guaranteed period of three years free intra and inter-banking transfers in RON, via internet and mobile banking, free of charge withdrawals from any local and foreign ATM as well as currency exchange services through a 24/7 online exchange platform.
"When we speak about Telekom Banking, we speak about a banking services offer willing to meet the fundamental expectations of its clients; banking services designed to cherish and value the creative potential of its clients. We are glad that through our partnership with Alior Bank, we are now at the forefront of the simple and easy to use banking services," said Miroslav Majoris, CEO Telekom Romania. "What we aim is to provide services fitted to the new IT&C culture that we live in today. Setting you up with all the possibilities that new technologies offer means to exploit the possibility of accessing today's innovation. The banking experience of Alior Bank and the technological and innovative vision of Telekom Romania made possible the birth of a banking services offer dedicated to the residential segment, capable to shape the future of the Romanian financial and banking segment", he added.
According to Majoris, the partnership between Alior Bank and Telekom Poland served as a strong recommendation. "We use our best practices from the Polish market, the most innovative solutions offered by Alior Bank in Poland and developed within our cooperation with T-Mobile. I would like to emphasize, however, that the final offer was prepared by the team of our Romanian branch, therefore we are sure that will meet the needs and expectations of all customers. We have ambitious plans and we are convinced that with Telekom Romania we are going to achieve them and we will be successful on the Romanian market where we see great potential. In this first phase, we will offer current accounts, debit cards, deposits and online exchange office. In the second phase we will be launching an interesting credit offer and we will continue to further enhance our value proposition" said Celina Waleskiewicz, Deputy CEO Alior Bank.
Introducing the online exchange platform
Telekom Banking services are launched gradually, on two pillars – daily (primary) banking and a new solution on the Romanian market, online exchange platform.
With Telekom Banking, customers can open current accounts in RON, EUR, USD and GBP, attach debit cards to them and have 24/7 access to their funds with the internet and mobile banking solution.
The current account can be either requested online on www.telekombanking.ro or directly from the mobile application or by visiting one of Telekom and Germanos shops. The online initiated process of opening an account is finalized via courier – which can be also the way of delivering the debit card, free of charge. Uniqueness for opening account in the shop is one can get his/her card instantly and use it just after signing an agreement.
The second pillar of Telekom Banking launching is the online exchange platform through which customers benefit from real-time exchange rates for 10 foreign currencies, refreshed at maximum every 10 seconds (during working days). Customers can set up foreign exchange transactions in details – e.g. set the date and time they want to make the currency exchange and the exchange rate at which a transaction is to be made. Last but not least, the "Pay later" option allows the customer to make currency exchanges without having available the full amount of money. It is necessary to hold at least 5 percent of the traded amount, and within two working days to ensure the necessary difference for the completion of the exchange
At national level, the Telekom Banking services launched today are available online at  www.telekombanking.ro and will be gradually available in the Telekom and Germanos stores. Ultimately, in the following month, in every Telekom and Germanos shops and selected partners, any person can request to open a current account and a debit card. In addition, through the shop-in-shop banking corner concept that has been developed and rolled-out in selected Telekom and Germanos shops, additional banking services, including lending products, will be offered.