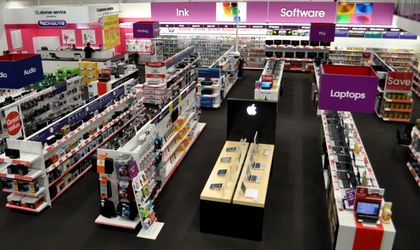 The technical consumer goods market in Romania registered a successful start this year, according to the GfK TEMAX study for Q1 2016, with overall sales amounting to EUR 521 million over the mentioned period.
Consumer electronics, major domestic appliances, small domestic appliances, and telecommunications all registered double digit growth compared to Q1 2015, while overall sales increased by 15.2 percent.
The largest increase was in telecommunications, the sector hiking 32.6 percent over Q1 2015, to EUR 181 million in sales, the largest volumes across TCGs. Smartphones led the way – especially in the mid-range price segment-, with devices having screen sizes between 5 and 5.6 inches registering the highest increase. Headsets also registered double-digit growth, going up by 22.6 percent as compared to Q1 2015.
Major domestic appliances came in second with a 25.9 percent increase y-o-y, sales for this segment totaling EUR 102 million in Q1 2016. All categories registered double-digit growth, with tumble dryers, dishwashers, and built-in hobs leading the way
Although IT devices came in third in terms of sales, reaching a total of EUR 98 million, the sector registered a 10.5 percent drop over the same quarter of the previous year. This was mainly due to a fall in demand for mediatablets, desktop computing products and mobile computing products, after a successful end of the year in 2015 (when sales amounted to EUR 177 million).
Consumer electronics posted a more modest annual advance, of 12.8 percent, sales amounting to EUR 81 million during the first quarter. The TVs market was the main driver of growth, but other segments, such as ultra-high definition, video game consoles, loudspeakers, and docking mini speakers all achieved double-digit growth also.
Another notable advance was posted by small domestic appliances (20 percent), sales totaling 37 million in Q1. Recovery in the vacuum cleaners segment was mainly due to cylinder bagless models. Some smaller segments – handstick, handheld, robotic, and 'wet and dry' vacuum cleaners – also registered significant growth rates. Female depilation and haircare products recorded the highest increases in the sector.
Table courtesy of GfK
Photography and office equipment & consumables saw falls in sales on the year (8 percent and 1.2 percent, respectively).
Photography equipment posted total sales of EUR 5 million this quarter, driven by declines in the fixed-lens devices demand, though single-lens reflex devices increased.
Office equipment reached a total of EUR 16 million over the mentioned period, driven by lower sales of laser cartridges and, especially, printers which recorded a double-digit decrease in value. On the other hand, inkjet cartridges and multifunctional devices reported a positive trend.
Natalia Martian