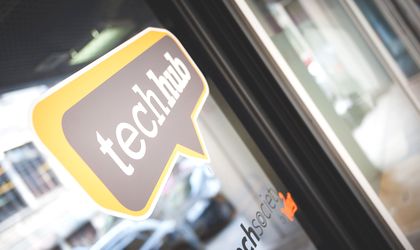 TechHub Bucharest celebrates four years of activity and extends the coworking space up to 1800 square meters, with 100 coworking spaces opened this June, and about 30 percent of them already occupied. 
TechHub Bucharest extends near the University area and starting June this year opened a new floor for tech professionals that want to work from a coworking space. The ground floor of the building is designed to host weekly tech events; Last year, TechHub Bucharest organized over 170 tech events and hosted another 180. The rest of the Hub offers around 170 coworking spaces, available 24 hours out of 7 days. Among the teams that work from TechHub Bucharest are Gloria Food, Minutizer, Accelerole, GreenHorse Games, Froala, Woogie, Appticles, Sleekbill and many others.
"Since the very beginning, TechHub Bucharest's mission remains to become the meeting place for Romania's tech community and to accelerate the growth of the local tech ecosystem. For the past four years, we hosted over 1000 tech events, with tens of thousands of participants: from developers to designers, product specialists and tech entrepreneurs. It is the community that boosted the organic growth of TechHub Bucharest and the number of successful tech startups that is steadily increasing. Therefore, the expansion of our coworking space came up as a natural move in our business development efforts.", said Daniel Dragomir, the co-founder and CEO of TechHub Bucharest.
TechHub Bucharest is the only coworking space from Romania that is part of Google for Entrepreneurs, a global partnership that provides special programs and Google assistance to tech startups.