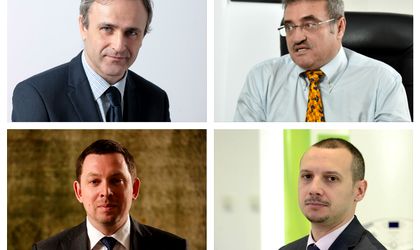 Imagine that you could find everything you needed to know about your energy consumption in real time, on one of the digital screens in your home or elsewhere. This is what utility firms are planning to bring about in Romania, and although there is still a long way to go and major investments will be needed, firms know that future energy clients will want more autonomy in managing their own consumption.
 Ovidiu Posirca
Pundits say that instead of consumers we will have prosumers, blurring the distinction between producer and consumer.
More electric cars on the roads and houses that can cover their own electricity needs are trends that are already starting to take shape in more mature economies. Locally, energy companies are planning key investments that would fit in the ecosystem of smart cities.
"The architecture of smart cities – featuring digital distribution networks, energy storage and smart management systems, high efficiency LED street lights and electric mobility – has a key element that is already present in the homes of millions of Enel customers in Europe and Latin America: the electronic meter," Emil Constantinescu, project manager at Enel Distributie, the distribution arm of Italian utility Enel in Romania, told BR.
Taking the first step – smart meters
In Italy, the utility firm has built smart metering infrastructure from scratch with the help of Telegestore, a ground-breaking remote management system project. Enel has installed 32 million smart meters in Italy, while in Spain italready has 7 million, accounting for 60 percent of the company's customers, according to Constantinescu.
In Romania, Enel rolled out a pilot project last year and installed 30,000 smart meters in its areas of distribution.
"In the coming years, if ANRE (the energy regulator – e.n) approves it, we will have massive rollout of this technology. Looking into the future, a fully consolidated smart metering system can improve competition in retail markets by allowing customers to switch suppliers easily as well as by enabling the introduction of flexible rate offers. In fact, the possibility of daily, weekly, monthly and seasonal tariffs together with flexible billing periods is due to expand the range of options from the current monthly or quarterly billing periods," said the Enel official.
Another utility company that is carefully looking at the potential of smart technologies in the energy sector is Czech firm CEZ.
Martin Zmelik, country manager of CEZ Group in Romania, says the company will invest in a system that will allow it both to manage consumers' additional requirements and to be open to integrating its systems with other components of smart cities.
In a nutshell, smart meters will allow household consumers to manage their consumption efficiently and perform all kinds of operations that will save them time, like not having to transmit the meter reading anymore.
Utilities will also become more efficient as they will be able, for instance, to manage contract operations, like tariff changes, connections and disconnections,remotely.
Moving to smart grids
Constantinescu of Enel said that smart grids include automation and remote controlling of various parts of the network. He added that the company has already taken the first steps in Romania for the integration of smart grids, by rolling out thenetwork's remote controlling system, called Telecontrol.
"Currently, Telecontrol technology is almost completed in the high voltage area, with just a couple of primary stations left to be completely refurbished by 2018. The remote controlling of the network is in progress in the medium voltage area and, with the introduction of the smart meter, it will start to show progress in the low voltage area as well," said the Enel official.
Elsewhere, the CEO of Siemens Romania, George Costache, says that before thinking about complex smart grids, Romania needs to have a clear energy strategy.
"Of course smart grids can be implemented in Romania; the question is when and how. The ideal scenario is to include smart grids in a national strategy in order to take the first step developing the cities of the future," Costache told BR.
However, the biggest challenge for the energy sector in Romania has been to maintain the trust of investors. Let's take the case of the renewable sector, which has been grown in Romania literally from scratch with investments exceeding EUR 7 billion. The support scheme for these energy producers was cut and companies fear they will not be able to recover their investments.
Furthermore, Romania hasn't been able to find any investors or financing for large-scale projects such as the two nuclear reactors at Cernavoda and the hydroelectric pumped-storage project in Tarnita.
According to Zmelik of CEZ Group, the cost of digitization and the implementation of new technology is still a high one.
"Currently, the feasibility of the development of smart grids is closely linked to the provision and engagement of European funds in this area, because most of our investment will concentrate on strengthening the network and ensuring a safe and continuous supply of energy. External funds are needed and will have to be the starting point in the development of this type of grid and their connection with the other components of smart cities," said the head of CEZ Group in Romania.
Monica Maria Bucur, president of the directorate at Luxten Lightning Company, adds that smart grids will help utility firms integrate and automate public services in preparation for the next revolution of the Internet of Things (IoT).
Prosumers instead of consumers – going off the grid
All the technology that surrounds us already might actually help regular consumers to start producing their own electricity more efficiently.
"The energy consumption of the future is perfectly connected to the environment. The necessary technology exists; we only need the smart strategy and the smart consumer,"said Costache of Siemens Romania.
He added, "For example, in building technology, we have the technical possibility to turn off the light automatically when it's light outside, we can already control our entire house from a distance, but we still lack the responsible behavior towards energy consumption. I see more and more responsibility from consumers' side, but this requires a mindset development that takes time."
The CEO added that we are now witnessing the birth of "prosumers".
"Society globally, by all the technological breakthroughs in electrical transport, smart housing and energy efficiency, is evolving to prosumerism and I have noticed that the younger generations have a strong concern about the environment, are more aware of their own responsibility and are willing to actively participate in their ecosystem," said Costache.
Constantinescu of Enel Distribute says the centralized production and distribution model is going through profound changes.
"Specifically for distribution, where the costs of operating and maintaining the network are not so sensitive to how much energy flows through the electrical lines, a different kind of cycle could emerge sooner than we think. While the solution of installing solar panels and batteries is currently rather expensive and not fully reliable, soon, these issues could find a solution through innovation. To the extent that some early adopters might think ofgiving up their connection to the grid and becoming independent," said Constantinescu.
He added that going forward, the grid will develop new roles, aside from taking electricity from large generators to consumers.
"The presence of consumers that will also become producers will most likely push to a new network model that will achieve cost effectiveness and an increase in shared value by augmenting inter-dependence between people connected to the grid. In other words, before it makes economic sense to store all of the energy we self-produce, it will make sense to use the grid to distribute our overproduction and receive energy when our self-productionis not sufficient," said Constantinescu.
The Enel representative added that traditional electricity distributors will have to dramatically change in this scenario. These companies will continue to ensure network reliability but they will also make investments that can fit in this inter-dependent, decentralized energy paradigm.
"Consumers will be more open to the idea of digitization in order to access more and more information, which will give them an increased level of awareness and orientation towards energy efficiency," added Zmelik of CEZ.
He commented that once the Romanian energy market is completely liberalized, the shareholder consumer will become increasingly mobile, being free to change supplier according to its needs.
Romanians already want smart equipmentin their homes that can make their lives easier, according to Catalin Draguleanu, country manager of Aristo Thermo Romania. He said that people are getting more interested in more innovative solutions for their homes such as solar panels.
"Romanians have learned to pay more attention to the products they are buying, to find out more about the technology incorporated in these products, to conduct the cost-benefit analysis and to make choices that are carefully documented. The main acquisition criterion now is not price, but post-sale benefits or the efficiency of the product," Draguleanu told BR.
He added that the company will roll out a new app in Romania called Ariston Net, which will allow any owner of a wall-hung boiler to control the product online.