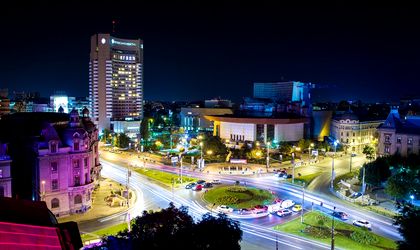 Imagine living in a city where you don't have to spend unnecessary time looking for a parking space, traffic jams are nonexistent, power consumption is optimally managed and air pollution is a thing of the past. Now, it is time to wake up. Smart technologies are still rarely being used to solve urban problems in Romania, pundits told BR.
Otilia Haraga
"The introduction of IT technologies in many fields in recent years has radically changed the way people are living their lives," Javier Ealo, business development manager at Bosch for the CEE region, tells BR. "Nowadays, it is common to share a car, or a private parking lot or apartments, when they are vacant. (…) Current technology also facilitates citizens' communication and active participation in how their cities are governed; savvy cities use these channels to better communicate their action plans, and collect real time feedback on the effectiveness of those actions."
Quoting research carried out by a leading consultancy company, he  adds that approximately 30 percent of city traffic is generated by drivers looking for a parking place. "If we could reduce just half of that useless driving, we would cut the resulting CO2 emissions, noise, and traffic jams. Productivity would increase because of more available useful time for drivers and passengers; additionally, fuel consumption and energy dependency and, in general, quality of life would be improved for citizens. All of this, in a very short period of time and with immediately visible results," he tells BR.
Romania is currently not very fast to introduce smart technologies into urban life, and the scarcity of such initiatives is easy to see: cities are generally polluted, traffic is infernal, finding a parking space is a frustrating adventure, energy consumption is rarely controlled, and in general, the daily life of urban-dwellers is complicated.
"The limited resources and local budgets of potential beneficiary authorities are the main obstacles. We hope that calls for financing axes using European money are opened as soon as possible. It is also very important how open the authorities are to the adoption of these types of projects, but fortunately, the answer is generally positive in this respect," Elena Paun, business development manager of the ICT division of Telekom Romania, tells BR.
Other pundits agree. Ealo cites access to funding as "one main deterrent," which is being overcome through European grants and soft credits. "A clear understanding of how technology can help the strategic development of cities can also be achieved thanks to technical workshops with specialized companies and through technical cooperation with international institutions; the enabling IT infrastructure (i.e. broadband, LTE, soon 5G networks as well) is already present in many cities and coming up soon in many more, and so is the prevalence of smartphone usage  among the public," he tells BR.
Dorin Pena, general manager of Cisco Romania, mentions as an obstacle the lack of inter-departmental coordination and harmonization. "Smart cities projects tend to break the silo approach and thinking. Many leaders also realize that they do not have sufficient internal resources, people and knowledge to manage such projects," he tells BR.
BR asked for the input of Bucharest City Hall. However, no answer had been received by the time the magazine went to press.
Among the main fields where Internet of Things (IoT) could optimize the life of a city, Vodafone officials cite traffic management solutions accompanied by video surveillance, parking space management through a system that includes automatization and video surveillance, electricity management via light sensors and smart supply management, public signaling, video surveillance for security, public transportation management including route optimization via GPS, and connectivity to public transportation.
"We are currently undergoing the largest wave of urban growth in history. More than half of the world's population now lives in towns and cities, and by 2030 this number will increase to about 5 billion. It is no wonder that today's cities face tremendous challenges – from rising populations and shrinking budgets to the need to save on the use of resources," said Ralf Nejedl, senior vice-president of B2B & ICT at Deutsche Telekom.
One such project using smart technologies was recently implemented by Telekom Romania in partnership with Cisco in Tineretului Park in Bucharest's sector four. The solution operates on a dedicated IoT platform, and consists of four integrated components: Smart Parking, Wi-Fi connectivity, City Safety and Smart Lighting.
"In Romania, the problems are similar to those of other large cities around the world. In Bucharest, where we have already implemented the first smart city project in the Children's Palace in sector four, we set up a parking solution, a security solution, and on top of this, we have helped towards the goal of cost reduction for the public authorities by installing a smart lighting solution. The fourth integrated component is Wi-Fi connectivity, which makes the experience of those in the park more pleasant because they have access to the service free of charge," Paun tells BR.
She adds that the local authorities should make it a priority to implement solutions that can help them reach their own performance indicators, such as reducing carbon dioxide emissions, or optimizing public transportation and lighting costs.
Secondly, public authorities should project these solutions according to a long-term urban development plan.
While in Romania it is hard to quantify results because smart technologies have been used only sporadically, other European cities are already feeling the advantages.
Pena, of Cisco Romania, tells BR that advantages range from direct cost savings to improved environmental indicators or citizen services.
Another advantage is the potential for job creation, especially when it comes to solution providers, or application developers who create the new services and applications for the city, he says.
Pena mentions Barcelona, where smart city projects have helped create 47,000 new jobs. The city also posted a USD 50 million annual increase in parking-fee revenue from smart parking. Hamburg, another European city that has adopted smart technologies, registered a 70 percent reduction in operational costs from intelligent bridge maintenance. Linz saw its carbon dioxide output fall by 85 tons in just nine months after investing in smart tram system.