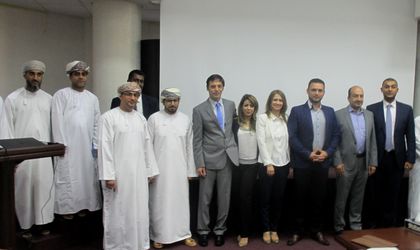 IT group Teamnet expands its activity in the Middle East, through the project "Ministry Core Applications and eServices Portal", developed by the Ministry of Regional Municipality and the Water Resources from Oman, in collaboration with the Modern Group Modern Information Technology LLC (ITON).
The project aims to implement a system that will emit online municipality authorization. The two companies will support the digitalization and optimization of over 400 types of services and 700 affiliated procedures for companies such as public health, constructions and water resources exploitation.
"The Teamnet entrance in this region, as well as the expansion in all the markets where we operate is a result of the work of 15 years of our team from Romania and of international level in developing competitive solutions, globally recognized. Athough we are at the beginning in certain countries,  we estimate growing results by 70 percent at international level for Teamnet this year compared with 2015, "said Bogdan Padiu, CEO Teamnet Group.
The investments in IT market this year are estimated by Gartner at USD 212,9 billion at Middle East level, therefore according to Teamnet, the solutions of this project contribute to the bureaucracy reduction, the strengthening of decision transparency and the improvement of communications with citizens.
The Gartner specialists estimate that the IT business services will represent 84 percent in the Middle East of the total segment of services in this field. However, the infrastructure software solutions will lead the rank.
Georgiana Bendre
For more IT&C updates, innovations and solutions join us at Focus on Technology & Telecom, on September 28