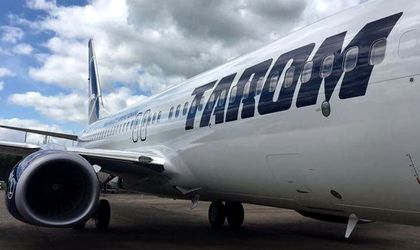 Tarom received the second 737-800 NG Boeing plane, which the Romanian flight carrier rented for 10 years. The aircraft is called the Great Union, echoing the 1 December 1918 union that saw the union of Romanian provinces into one state.
The aircraft was received by representatives of state company, with Minister of Transport Razvan Cuc also being in attendance. The first aircraft, Sarmizegetusa, arrived in Romania one week ago and was received during an event that saw F-16 planes fly alongside.
Beginning of the month, the Ministry of Transport announced that Tarom signed a contract to purchase two new 189 seat Boeing 737-800 NG aircraft. The two planes are leased for 10 years from the owner of the planes, Pegasus Airlines, which bought them and, according to Tarom representatives, did not want to use them.
After 10 years, Tarom will decide whether it will purchase or not the two planes, according to their state, according to Eugen Davidoiu, the company's general director. The two new Boeing planes will fly to Madrid, Tenerife, Tel Aviv and Larnaca, Davidoiu said. The planes are replacing two Airbus A310 planes that had been acquired in 1992.
Several other planes are expected to enter the company's fleet by the end of the year, Razvan Cuc said, including to that will fly to China and the United States.