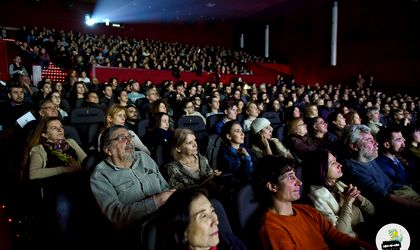 The sixth edition of the Bucharest International Experimental Film Festival BIEFF opened on Monday, March 14, evening at the CinemaPRO with a full house presence for the preview screening of Aleksandr Sokurov's Francofonia, according to a press release from BIEFF. The movie, named best European film at the Venice International Film Festival, will be available for viewing again Thursday, March 17, from 8pm at the Peasant Museum Cinema.
The premieres will continue on Wednesday, March 16, with the screening of Peace to us in Our Dreams, from Lithuanian director Sharunas Bartas, at the Elvire Popesco Cinema.
Later this week, the experimental area of Romanian film will be brought to the public's attention during the Experimenting in Romania program on Sunday, March 20, at 5pm, at the Romanian Peasant Museum Cinema. The program is a selection of the most recent video-performances created by Romanian artists, which BIEFF will be showing on the silver screen for the first time, as they had previously been exposed in galleries and museums.
Anca Benera and Arnold Estefan's No Shelter from the Storm, Veda Popovici's Revolutionary Gear: The History of Art Retold through the Black Square, Larisa Crunteanu's At the Mirror, Dragos Alexandrescu's Exercising Failure and Diana Miron's Cobalt Blue are some of the Romanian films that will be shown during the Experimenting in Romania program.
Andreea Tint