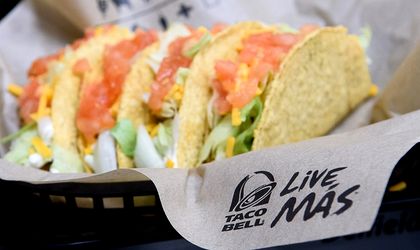 Sphera Franchise Group has opened the fourth Taco Bell restaurant in Romania, located in the AFI Cotroceni mall in Bucharest. The new unit is the result of an investment of about EUR 450,000.
Taco Bell, the newest brand in the Sphera Franchise Group portfolio, was launched on the Romanian market in November last year, giving fans original Mexican products.
Meanwhile, the brand expanded its local presence through units located in the main shopping centers in Bucharest. The new AFI Cotroceni restaurant has a 245 sqm area (interior and terrace) in the food court area on the ground floor of the mall.
The unit follows the design of Global Explorer, an original international Taco Bell format with an open kitchen that allows every customer to see how their order is prepared, unlimited WiFi access and USB sockets to charge mobile devices. The restaurant has a capacity of 98 seats with Hub Tables or Low Couch Seating tables.
"The decision to continue expanding the brand in Bucharest was natural: considering the large number of consumers in the capital, it is, without a doubt, still a place to grow. In addition, ever since the launch, fans have demanded that Taco Bell also come to AFI Cotroceni, many people's favorite mall, due to the wide variety of commercial and entertainment options," said Mark Hilton, CEO of Sphera Group.
With the opening of this unit, Taco Bell has created 30 new community jobs, and the new team is ready to take over and prepare the orders of those who will choose Taco Bell during breaks between shopping sessions, before or after watching a movie, or when they go out to have lunch with my friends and family.