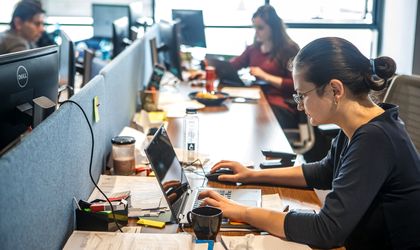 Romanian company System Innovation Romania has partnered with UiPath to automate business processes. The company, the main provider of SAP Business One on the local market, signed a partnership to integrate software robots into business process optimization projects delivered to the local and international markets. System Innovation Romania will combine the ten-year experience in implementing SAP ERP and QlikView ERP solutions with the latest generation of Robotic Process Automation (RPA) developed by UiPath.
The company has created a new business line that will deal exclusively with process management and automation, regardless of the computer systems used by the customer. System Innovation Romania and UiPath will thus help companies run processes and workflows as fluently and efficiently as possible with minimal human intervention. The new solutions will help users to perform their tasks and activities more quickly and focus on the creative aspects of their work instead of routine ones.
"Workforce is becoming more and more expensive and harder to find. Therefore, companies need a smart tool that reduces gross workload and repetitive tasks. They block employees' creativity and affect their productivity. Our goal is to transfer these tasks to a RPA system and eliminate manual intervention. In this regard, we will build solutions packages based on both UiPath technologies and proprietary products, integrating all of the IT systems in a company. The 10 years' expertise in developing and implementing business software solutions will help us deliver our RPA automation projects to our clients, complementing those already in our portfolio, "says Ciprian Condur, Managing Partner, System Innovation Romania.
RPA can handle any business process involving large volumes of repeating data and rules, from extracting and processing data sets from various documents, transferring files and folders to different locations, reading and writing to / from databases or applications, etc. A software robot can automate, for example, obtaining monthly activity reports, entering invoices and orders, processing holiday requests or completing customer forms.
"RPA redefines the business environment through its massive impact on productivity, efficiency, and customer satisfaction, but also on employees. Software robots can handle repetitive tasks, which they run 24 hours a day, 7 days / week, eliminating human errors quickly and safely. At the same time, it collects data and makes it available to those supervising the automation project in an organization. RPA is agnostic, applicable to any industry, and our partnership with System Information Romania proves that our market is also ready for the global digital revolution, " says Razvan Atim, Head of CEE and Russia, UiPath.
According to the latest forecasts, the global Robotic Process Automation market will reach USD 5.1 billion in 2025, with an annual growth of about 30 percent. Evolution is favored by the increase in industrial automation and the widespread adoption of IoT-Internet of Things.
The company has 28 employees and has reported a turnover of EUR 870,000 for last year.