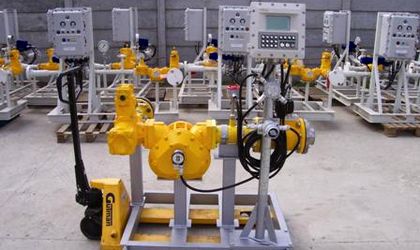 Romanian firm Syscom 18, which is specialized in the field of industrial automation equipment and measuring systems for the oil and gas industry, will provide equipment for oil companies in Iraq and Bahrain in a deal worth EUR 3 million struck this February.
The company has been active in the Middle East and Central Asia for the last six years and is currently negotiating three more projects in Iraq and the United Arab Emirates, and one in Jordan.
Ion Andronache, president of Syscom 18, says Romania will have oil and gas projects for the next decade, but this process will gradually reduce so companies will look abroad for projects.
Andronache estimates the local process control and automatization market totals between EUR 400 and 500 million.
The largest players are multinationals such as Honeywell, Emerson and Siemens, but Syscom 18 has had over 800 customers in the last 20 years and human capital plays a crucial role in this.
"Romanians are better technologically skilled and the country has an industrial tradition, but they need to promote themselves better," said Andronache. The company has ongoing projects and has been looking to hire young engineers in the last six months.
"We can't find any as most want to work abroad," he added. At present the company employs around 140 people, mostly senior specialists with a technical background.
"In practice we are a system integrator, when we make a fiscal metering skid; all the components are from Western Europe or America. We do the project management, assembly and testing, providing quality similar to Western countries," said Andronache.
A company originating from Eastern Europe can tap markets in the Middle East only after developing significant local projects which Syscom did by working with the largest energy producers, Romgaz and Petrom.
For Romgaz, a natural gas supplier, majority-owned by the state, Syscom 18 designed and manufactured four large natural gas metering stations for underground storage facilities at EUR 1 million each, also providing automatization solutions for five compression stations at around EUR 1 million each. For oil and gas company OMV Petrom, the company designed a vapor recovery system, costing EUR 6 million, in two years.
In the Middle East the company has supplied a SCADA system for a refinery in Syria, metering skids in Iran and a control and metering system for a tank farm in Jordan. It has also had projects in Kazakhstan, where it was responsible for process control systems for two large gas treatment stations in the Caspian area.
Andronache hopes the company he manages will reach EUR 4 million in exports this year, against the company's total annual sales of EUR 15-20 million. "We would like to increase the export rate to 40 percent as projects are starting to fade out in Romania," said Andronache. The company had a turnover of around EUR 10 million last year and this year's figure will be similar, down 50 percent from 2007.
Although ExxonMobil and OMV Petrom recently discovered an offshore gas deposit in the Black Sea area of Romania, estimated to contain around 100 billion cubic meters, Andronache says the country is no longer prominent worldwide in oil and gas extraction projects.
This is why Syscom 18 is focusing on countries in the Middle East and more recently in South East Asia, in Singapore, Malaysia and Vietnam, although work here is still in the early stages.
Ovidiu Posirca