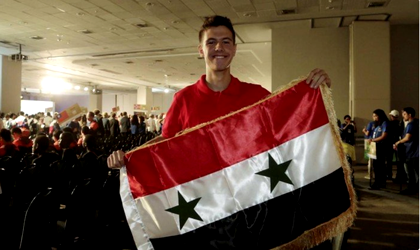 This year's International Mathematics Olympiad, held in Cluj, Romania, required an unprecedented level of security, with over 100 policemen and gendarmes being assigned to the site. The measure was taken due to the presence at the competition of the eldest son of Syrian president Bashar al-Assad.
The 16-year-old Hafez al Aassad will compete in Cluj-Napoca against 600 other students, who come from over 100 countries.
It is the sixth time Cluj hosts the International Mathematics Olympiad. Hosting will cost the city, one of Romania's biggest, a total of EUR 1 million. Half the amount wis provided via public funds, while the other through sponsorship from private actors. A total of 350 people will be involved in the day to day running of the event, most of whom are volunteers.
The Romanian delegation comprises five high school students. Four are enrolled in Bucharest high schools, and one in Constanta.
Hafez al-#Assad son of Bashar (rank 528 of 615) Brazil Mathe Olympiad
"#Damascus is like Rio, majority of city is safe, but some areas not" pic.twitter.com/IK9gfFaDe5

— xxx (@markito0171) July 23, 2017

The increased security level came as a response of the local authorities to the demand submitted by Syrian authorities. Hafez al Aassad participated at last year's edition and came 528th out of 615.
The competition is held at the Sala Polivalenta in Cluj between 3-14 July.