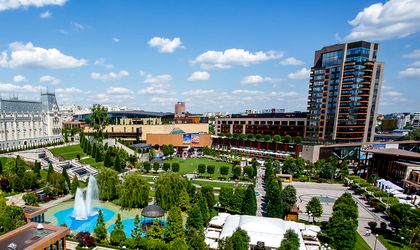 Swedish software provider ENEA opened its first center outside of Bucharest in the UBC 3 office building within the Palas ensemble in Iasi and is currently developing its operations. The software maker is recruiting over 100 employees to fill the Software Developer and Manual/Automatic Tester positions.
ENEA has been present in the Palas ensemble since the end of 2015, when it launched its first research and development center.
"We chose Iasi due to its potential within the Romanian IT market. We all know that Iasi is one of the largest and most prominent academic centers in the country. We wanted a location that was as close as possible to the downtown area of Iasi because we take pride in providing our employees with all the conditions required for carrying out their activity. Downtown Iasi basically translates into Palas, so the choice was nothing less than obvious," said Valentin Picos, manager of ENEA Iasi Office.
Headquartered in Stockholm, Sweden, ENEA is a software research and development (R&D) company operating in the field of communication technologies.
Listed on the NASDAQ OMX Nordic Exchange Stockholm AB stock exchange, ENEA is active across two continents: North America (Boston and Phoenix –USA) and Europe (Stockholm – Sweden, Bucharest and Iasi – Romania).
United Business Center (UBC) is an office project developed by Iulius Group, including approximately 80,000 sqm of class A office buildings operating in Iasi and Cluj-Napoca, and another 131,000 sqm pending construction in Timisoara.
In the Palas Iasi ensemble, the company has five office buildings that are currently in operation and accommodate approximately 4,800 people. The developer is currently carrying out the fit out works for the UBC 5 office building, which is going to be opened this year.
At the same time, the construction works for the second mixed-use ensemble in the Iulius company group network were started last autumn (2015), in the vicinity of Iulius Mall Timisoara, with the investment adding up to over EUR 220 million. Along with the retail, park and entertainment functions, Openville will also comprise seven class A office buildings, with a gross leasable area of over 131,000 sqm, including the tallest building in Romania (155 m and 27 floors).
Natalia Martian