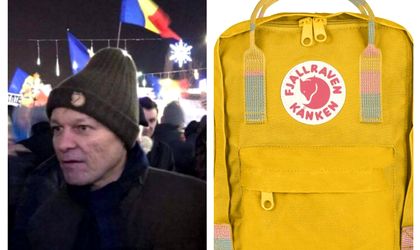 The Embassy of Sweden in Bucharest has posted on Monday on Facebook a message advertising the hat worn by former Romanian PM and European Commissioner for Agriculture Dacian Ciolos at the protests against the changes to the laws on judiciary that sewed Romania on Sunday. The double-knitted ribbed woollen hat, produced by Swedish brand Fjallraven, comes in eight shades and can be purchased online for EUR 42.95.   
"Impressed by former PM Dacian Ciolos hat from yesterday's TV images?," says the message posted by the Swedish Embassy. "It's a Swedish Fjallraven hat! Since 1964 Fjallraven has provided Sweden with reliable and fashionable outdoor gear. Nowadays, you can spot Fjallraven products all over the world", the post explains.
However, instead of providing a link to the hat, "double folded at the bottom for a comfortable fit," which has an arctic fox on the forehead, the diplomatic institute gave a link to another product by the same brand, a backpack. "Surely you recognize the classic "Kanken" –back pack, yet another loved product from Fjallraven. If you fancy this garment, follow this link: https://www.fjallraven.com/. Here you can find more Fjällräven products, and discover for yourself why Swedes have been loving this gear for generations!"
You can purchase for yourself the woollen hat made by Fjallraven, Purveyor to the Royal Court of Sweden, here. It comes in one size only.