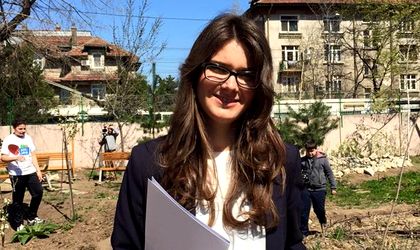 The current mandate of the Environment Ministry places special importance on sustainable development, showed during a press conference Manuela Constantin (pictured), director of the State Secretary Cabinet within the Ministry of Environment, Water and Forests. This can be achieved through education in general, and education in schools, the Ministry representative added.
However, in terms of institutional cooperation for such education to happen, there has been no initiative in a long time.
"I was looking at what happened between the Ministry of Environment and the Ministry of Education, if there was ever a collaboration between them to make this area of study (e.n. – ecological education) mandatory or have more optional materials. The only protocol that I found was signed in 2005 between the Ministry of Education and the Ministry of Environment, through which a working group was formed for the preparation of an optional which presently exists, Environmental education and environmental protection. And then, from 2005 until now, there have been no initiatives," the Ministry representative said, adding that she is specifically speaking about institutional collaborations, not taking into account civil society projects.
This is why it's good that NGO's are taking matters into their own hands and creating their own curricula, Constantin went on to say, referring to the "Green schools" platform, an ecological education project aimed at secondary school students. The project, initiated by three local NGOs (Greenitiative Association, WWF Romania and Viitor Plus – the Association for sustainable development), was funded through the EEA 2009-2014 grants within the NGO Fund in Romania.
"Unfortunately Romania does not have a culture of waste management, of selective waste collection. And even if in schools children are taught how to recycle paper or how to throw the paper or plastic in the correct trashcan, when they get home they throw all the garbage together. Maybe the collection by specialized companies is not done properly either, and that is something we should improve," Manuela Constantin further stated.
She added that steps forward are being made through programs such as the Different School (Scoala Altfel), which uses a great teaching pattern, based on the Anglo-Saxon system, as compared to our customary system which is based on just theory so that the children don't take anything away, just "cumbersome information. We should work more practically," Constantin mused.
In order to support NGOs in further developing such programs, the Ministry of Environment will launch financing funds for awareness and education regarding sustainable development.
"There will be several programs in this regard, both for biodiversity and for education and awareness, where eligible applicants are NGOs, but also partnerships with schools to strengthen this cooperation between NGOs and schools," the Ministry representative said.
Photo source: Facebook
Natalia Martian