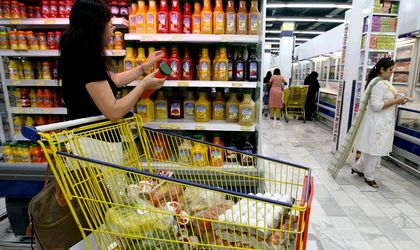 One in three Romanians, namely 29 percent of respondents, is concerned over rising costs in the upcoming year. Moreover, 21 percent of respondents are concerned over the evolution of the Romanian economy in the upcoming period, a study by GfK said. 
The overwhelming majority of respondents, 92 percent, said they only lend amounts they know they can easily repay.
The study was conducted by GfK, and was commissioned by International Personal Finance group, which operates on the Romanian market via its subsidiary Provident Financial.
The annual inflation rate, which measures the evolution of prices in the past year, went up in July to 1.4 percent, the highest level since October 2014, given that electricity costs went up by 6.8 percent and the cost of foodstuffs dropped compared to the previous month, according to the National Institute of Statistics (INS).
The rise in the cost of living in the upcoming period is caused by an increase in the cost of utilities, 29 percent argue, the costs of maintaining the household, both rents or instalments for the purchase of housing (15 percent) and food expenses (12 percent). This is over the European average of 17 percent, the study shows. By comparison, for respondents in Europe, the main reason for the increase in the cost of living is represented by rents or house purchase (19 percent) and food expenditure (19 percent)," the survey shows.
In addition, 12 percent of Romanian respondents consider retirement could affect their standard of living, as opposed to the average of only 6 percent at European level. Moreover, 7 percent of them take into account the possibility of receiving less money from abroad in the next period and thus the living standard to be affected.
Most respondents in Romania say that they take into account loans from banks or non-bank financial institutions mainly when they want to make improvements in the household (31 percent), unexpected expenses that may affect their financial situation (29 percent) or medical expenses (18 percent) when seeking to consolidate their debts (23 percent), but also to invest in children's education (5 percent).
"Four out of 10 respondents find it easy to access a loan, similar to last year. This does not mean that they do not deal with financial responsibility very much: 94 percent of respondents say they think very carefully before taking a credit, and 87 percent never borrow under pressure, and 92 percent say they do not borrow more Than they know they can repay without difficulty," the study shows.
The study was conducted on a representative sample o approximately 4,000 clients of the International Personal Finance in four European countries, as well as from Mexico.