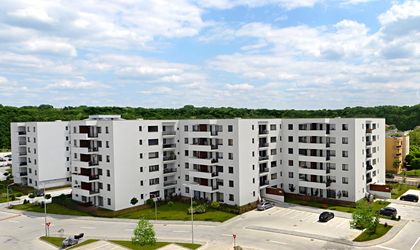 The most sought-after properties in Bucharest are located in the north and central area of the capital, a survey by real estate developer Impact Developer & Contractor shows. The survey was conducted on the sidelines of the National Real Estate Fair (September 30 – October 2).
According to the study, 25 percent of respondents chose the northern area of the city, due to the vicinity of Baneasa forest, the Pipera – Aviatiei office area as well as the proximity of well-rated schools and high schools. The central area ranks second among the preferences of respondents, with 22 percent opting for it due to location and availability of means of public transport, followed by the south (15 percent), western (15 percent) and eastern areas (14 percent). Most respondents (80 percent) said they were planning to change homes in less than a year.
Most potential buyers (43 percent) opted for a two bedrooom flat, while less than one third (24 percent) chose a three bedroom flat. A total of 23 percent expressed a preference for houses and four bedroom apartments.
According to the study, quality is a very important factor when it comes to the decision to purchase a property. More than half of prospective buyers said they would pay over EUR 65,000 for a two bedroom flat, while for a three bedroom flat in the same area 57 percent would pay a budget of over EUR 850,000. As regards four bedroom flats, a third of respondents would pay more than EUR 100,000.
"The northern area of the capital is a very sought-after residential area, as it is very appealing due to real estate developments and of facilities," Impact CEO Bartosz Pudrowski said.
Following an EUR 44 investment, Impact Developer & Contractor developed the Greenfield real estate project, the largest in Bucharest's Sector 1.
Georgeta Gheorghe