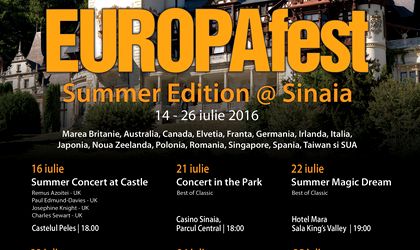 The summer edition of EUROPAfest festival, an event dedicated to jazz and classical music, will be held in Sinaia between July 14 and July 26.
The festival, under the High Patronage of the Royal House, will bring before the public six classical music concerts and the Summer Music Academy Sinaia, an event which offers advanced studies and intensive performance at the highest standards for violin, viola, cello, flute and chamber music.
16 international artists from various countries, such as Australia, Canada, Switzerland, Japan and New Zealand, will perform during the summer edition of EUROPAfest.
Among the artists who were invited to perform during the event are Romanian violinist and Julliard School alumni Remus Azoitei, UK violinist Josephine Knight and Paul Edmund-Davies, principal flute for 20 years of the London Symphony Orchestra.
The event will be opened on July 16 with the Summer Concert, held at Peles Castle from 18:00. The other five concerts are scheduled for July 21st , July 22nd , July 23rd , July 24th  and July 25th   and will take place at Hotel Mara Sinaia, Dimitrie Ghica Park – Casino Sinaia and the Catholic Church. The access to the concert is made with invitations, but free entrance is allowed within the limit of available seating.
Andreea Dulgheru