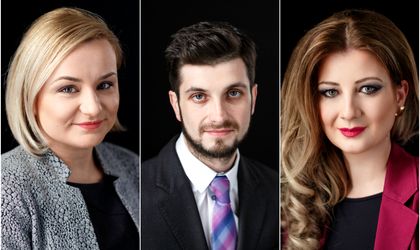 Law firm Suciu Popa announces the promotion of Roxana Fercala, Andrei Georgescu and Crina Ciobanu to the firm's partnership.
Prior to these promotions, Fercala, Georgescu and Ciobanu have been Suciu Popa's managing associates since the foundation of the firm, each of them having over 10 years of legal experience in serving a number of companies in some of largest transactions concluded on the Romanian market to date.
"Roxana, Andrei and Crina were part of our team since the very beginning. They contributed to turning Suciu Popa into a success story and we take the opportunity today to thank them for their  trust, effort and commitment to the firm, as well as for their professionalism and enthusiasm towards any project entrusted by our clients," said  Luminita Popa, managing partner of Suciu Popa.
Miruna Suciu, managing partner of Suciu Popa, said: "By investing in a new generation of talented and dynamic lawyers, we aimed at ensuring our firm's growth well into the future and further consolidate Suciu Popa's presence in key sectors".
Fercala has an experience in counselling major foreign investors in Romania and focuses on dispute resolution concerning investments, privatizations, mergers and acquisitions in areas such as constructions, infrastructure, public procurement and energy. She represents clients in a wide range of international disputes, as well as litigation in international trade, construction law, as well as international public and private law. She has been admitted to the Bucharest Bar in 2005 and holds a PhD from Babeş-Bolyai University Cluj-Napoca.
Georgescu's practice covers Romanian and EU law, competition and antitrust, corporate and M&A, regulatory and compliance, pharma, as well as litigation related to these areas of practice. Over the years, he has acted on behalf of multinational clients in complex merger control procedures, antitrust investigations, as well as in litigation files concerning the IT, pharma, energy and other regulated industries. He was admitted to the Bucharest Bar in 2007 and is also an Intellectual Property adviser.
Ciobanu is predominantly focused on domestic and cross-border real estate investment and finance. She has knowledge in aspects of the transactional market and related financial schemes, specifically regarding acquisition and project finance and general banking matters. She has also represented major investors in connection with construction and infrastructure investments, offering hands-on advice at every stage of the project, from the tendering phase, up to mediation and arbitration, when necessary. Ciobanu was admitted to the Bucharest Bar in 2007.