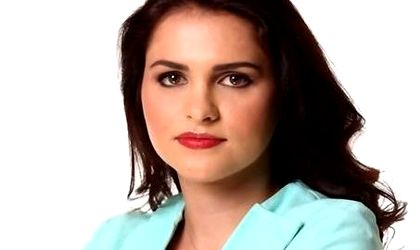 Cristian Buzasu is currently working in the UK for the European Bank for Reconstruction and Development (EBRD) as principal manager for the region that also includes Romania. In an exclusive interview for Business Review, she talks about her professional experience abroad and the option of returning in Romania. She has been living abroad in the past eight years, in London and Brussels.
This interview is part of a series that BR will publish throughout this year about inspiring Romanians that are successful abroad – they might start companies, work for famous public institutions or private firms or support initiatives that make the society and the world better as a whole.
We are interested in your story, so you can contact us directly at editorial@business-review.ro
 How did you decide to leave Romania?
I left Romania when I decided to do my graduate studies abroad: first an Erasmus Exchange Programme and then a Master's degree in the UK, at the London School of Economics (LSE). The reason for choosing a graduate programme abroad, rather than in Romania, was that I was drawn to the Anglo-Saxon education system focused on students' academic and personal development, critical thinking and creativity.
At the time, I wasn't sure how long I would live abroad – but so far it has been almost 8 years: one year in London studying European Political Economy at the LSE, three years in Brussels working as Policy Advisor in the European Parliament, and three and a half years back in London working as Manager at the EBRD.
How has your professional life changed since starting your professional activity in the UK?
I find that working in the UK has really given a boost to my career, providing a feeling of accomplishment in my professional life. I have learned a lot, not only in terms of the actual skills and expert knowledge required to perform well in my job, but also when it comes to values, behaviour and work ethics.
I'm sure the experience I have accumulated will prove valuable from all points of view in terms of my future professional development.
How would you characterize the UK work environment?
I believe the UK generally provides a good, meritocratic and friendly environment to work in. However, as with all good things, there is always a downside: the professional environment in the UK is, what I would call, very "settled" – so you can only make relatively small steps towards your career progress and promotion. It takes a lot of patience and determination to make it to the top of the hierarchy.
Please tell us more about your current professional activity.
I am currently working at the European Bank for Reconstruction and Development (EBRD), as principal manager for Central and South-East Europe. In this role, I manage the institutional relationship of the EBRD with external stakeholders in the region, and with officials in EU institutions and other international organisations. I also originate, raise funding and manage technical assistance projects in the area of good governance, with a special focus on Romania, Moldova, Ukraine and the Western Balkans.
Do you see yourself returning to work in Romania?
In the medium and long term, I do see myself returning to work in Romania – especially if the socio-political and economic environment becomes more favourable. Of course, some structural problems facing the country might take a long time to be resolved, and I try to keep realistic expectations.
Nevertheless, another reason why I would consider going back is that I believe Romania can offer – given the right circumstances – more opportunities for career progression and advancement, both in the public and the private sector. As one would put it, in Romania "everything is yet to be done".
What are the projects you are proudest of and why?
It is hard to pinpoint, but I would say the projects I am most proud of are part of a technical cooperation framework worth around EUR 6 million we have put together in order to promote, among others, good governance in Central and South-East Europe. As such, the framework enables participatory monitoring of public procurement in Ukraine, fosters business integrity in Romania and Serbia, encourages anti-corruption efforts in the Western Balkans and enhances the capacity of business associations in Moldova.
For instance, the EBRD has provided technical expertise and funding for the creation of a new eProcurement platform in Ukraine called ProZorro (transparency), with the purpose of improving the efficiency and transparency of public procurement. Since most corruption in Ukraine is linked to procurement, we devised a methodology and analytical tools for monitoring procurement through ProZorro. These tools are made available to the general public and nongovernmental organisations, and we are also providing training to NGOs, activists and journalists to use these tools in order to identify irregularities in procurement at the local and municipal level.
So far, ProZorro has turned out to be a real success story, delivering significant savings and reduction of corrupt practices. I believe that through this project we have managed to make a real change on the ground and thus improve the lives of ordinary citizens. It could be replicated in other countries in the region where corruption is still pervasive, including Romania.
What's your take on Brexit? Do you think it will impact your professional activity?
In my opinion, Brexit is a political gamble gone wrong – one that is likely to have a profound impact on the UK (and to a certain extent the EU) for decades to come. The economic and political effects of Brexit are already being felt. There has been a significant slowdown of the British economy amid the depreciation of the pound to a historic low. With inflation approaching 3 percent, the British real income is declining and consumer spending is at its lowest level in five years. Also, the latest GDP estimates show that investment and industrial output are stagnating, with potentially negative impact on productivity and employment.
Politically, both the Conservatives and Labour are very much divided on this topic, and PM Theresa May's weak majority forged with the DUP makes it hard to govern the country and pass legislation. As the first round dedicated to UK's withdrawal agreement has shown, the negotiations between EU27 and UK will probably prove quite long and difficult – both regarding the transition period, but mainly as regards the future framework of EU-UK trade relations and foreign affairs / security arrangements.
My professional activity will not be impacted by Brexit directly, at least for the moment. But once the two-year transition period expires, work permits might be reintroduced for EU citizens who want to work in the UK and the conditions for acquiring residence / citizenship might be changed.
Those that will be most affected, I think, are probably the ones who will come to the UK after the end of March 2019 – the so-called "withdrawal date".
How would you describe your British experience in one sentence?
I would describe my British experience as rewarding, enabling me to grow as a person and expand my horizon. [Weather-wise, on the other hand, I have seen much better – so definitely not a suitable retirement destination.]
Cristina Buzaşu is an EU policy and strategy expert with more than eight years of professional experience in international organisations. She currently works at the European Bank for Reconstruction and Development (EBRD), as project manager for Central and South-East Europe. She has also worked as Policy Advisor in the European Parliament and in strategic management consultancy. Cristina graduated from the London School of Economics with a Master's degree in European Political Economy, and also undertook specialization courses at Cambridge University and Georgetown University. She has collaborated over time with several think tanks and nongovernmental organizations, focusing on democracy and governance issues.