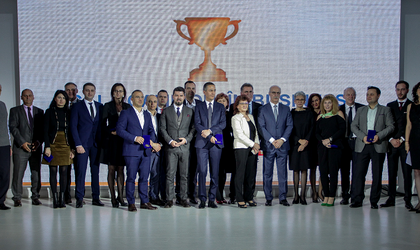 The most dynamic entrepreneurial companies in Muntenia were awarded at Bucharest this week at the Gala "Champions in Business". Over 130 business people from Romania attended this year edition.
According to a study of PwC Romania for "Champions in Business", where were analyzed the biggest 2,850 entrepreneurial companies in Romania according to the turnover from 2016, over a half of them (56 percent) develop their activity in Muntenia. The entrepreneurs in this region registered a turnover growth year-on-year by 10 percent in 2016 an a turnover per employee of RON 540,000, an year-on-year growth by 2.9 percent.
At the same time, the companies from Muntenia registered a gross profit growth rate by 13.4 percent and an evolution of the net profit of 15.2 percent. In 2016, the entrepreneurs in this region registered a gross profit/employee of RON 24,000 and an year-on-year growth rate of the gross profit/employee of 6 percent. The number of employees within these companies also registered a growth rate by 6.9 percent.
According to the analysis, the biggest entrepreneurial companies in Muntenia registered an average value of the turnover of RON 95 million in 2016, a gross profit of RON 4.3 million, net profit of RON 3.6 million, 177 employees and a gross profit rate of 4.5 percent.
In top of the activity fields in this region (according to the aggregated value of the turnover) are:  wholesale, retail, auto trade, food industry and agriculture.
Within the Gala, the Entrepreneur of the year was awarded Iulian Stanciu, CEO eMag.

At the category "companies with the turnover higher than EUR 15 million in the last year", were awarded the companies City Grill Group, otter Distribution, Oscar Downstream.