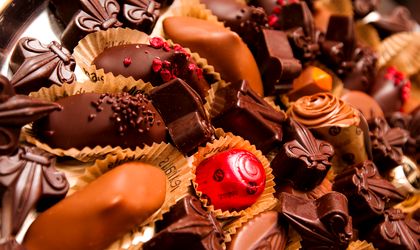 Chocolate consumption in Romania has increased significantly due to the increase in the Romanians' purchase power, so that the chocolate market will reach a record level, which might exceed RON 5 billion in 2018, according to KeysFin study.
The chocolate market value in 2016 reached RON 4.5 billion and the preliminary data regarding the evolution from 2017 shows an increase of over 20 percent. According to KeysFin, which has analyzed the market evolution since 2012 until now, the main indicator that shows the sector dynamics, is represented by market profitability.
In 2012, 786 firms that produced or distributed chocolate products  posted a net profit of RON 107.3 million and in 2017 it's estimated to RON 306.1 million, for 758 firms.
"The chocolate market went through a business consolidation, maturation and the business efficiency was the focus. Thus, for a turnover relatively constant during this interval, the firms' profit increased by two times. Firms diminished their debts by over RON 300 million, the commercial debts reduced from RON 829.5 million to RON 675.3 million in 2016 and the net losses decreased from RON 138.7 million to RON 79.7 million," say the analysts.
According to Eurostat, a Romanian eats in average 2.2 kg chocolate/year, but the newest data shows that the consumption level has increased significantly in the last 2-3 years. Compared with   countries, Romanian consumption is still reduced. Swiss, European champions in chocolate consumption, consume 11 kg chocolate/capita and the EU average is 10 kg.
According to KeysFin, the main player on the Romanian market on production segment is Nestle, followed by Kandia Dulce SA, Heidi Chocolat SA, Mueller and Friends and Marco Polo.