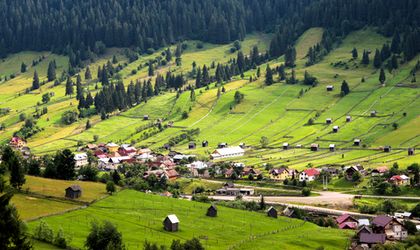 Orthodox Easter is coming and some of those who celebrate it choose to travel in the mini-holiday. According to a study of the hotel booking platform HotelGuru.ro, 17 percent of Romanians travel during Easter, meaning that more than 3 million people spend Easter away from home. For those who travel, the top preferences are Bucovina (33 percent), Transylvania (27 percent) and Valea Prahovei (24 percent). The Easter holiday brings offers both in Romania, as well as abroad.
This year, Romanians prefer local destinations instead of European capitals, 89 percent of respondents chosing to spend this holiday in Romania. To mark the festive atmosphere of the period, hotel owners provide their clients several services and facilities, such as access to pool, sauna, jacuzzi, fitness gym. Moreover, they are preparing traditional dishes and decorations with Easter theme.
Romanians are willing to spend RON 300-600/person for an Easter mini-holiday, according to the study of HotelGuru.ro.
The representatives of Suceava county's council – where the Southern part of the historical province of Bucovina is located – say people are interested in Bucovina tours during this Easter for the traditional experiences; the packages start from EUR 200-250 up to EUR 400, depending on the activities included, such as visits to monasteries and traditional eggs painting workshops.
Bucovina is considered a prime destination to spend the Easter holiday because it brings an atmosphere of peace. The tradition has been passed from one generation to another, with traditional red painted eggs, the traditional Easter cake (pasca) and the charm of monasteries full of history complete the Romanians' tradition from Bucovina.
There are still guesthouses and hotels that you can find in Bucovina on Booking, whose prices range between RON 633- 3,600 for 3-night accommodation.
For the people who haven't chosen yet a destination, there are still available last-minute offers.
Tui Travel agency comes with last-minute offers, such as in the Romanian mountains, in Sinaia, for three-night accommodation (6.03-9.03) in two-bed room at four-star hotel, with breakfast included and a festive Easter lunch and individual transport, all for EUR 175/person, according to Marian Buturache, tourism product manager at Tui Travel agency.
For those who like spa resorts, the agency has an offer at a five-star hotel in Sinaia for three-night accommodation in a two-bed room with breakfast and dinner included, a festive Easter lunch, access to wet  sauna, dry sauna and ice fountain, access to aquapark and spa, as well as individual transport, all for EUR 265/person.
For the fishing lovers, Tui Travel has an offer at the Danube Delta at the Green Village Resort. The 4-star resort Green Village means a holiday on the seaside and an escape in the heart of Delta. Those who like trips can take a trip on the canals and lakes of this wild region. The nautical base has fast boats, piscatorial boats and kaiaks.
The offer includes 3 night accommodation with breakfast and dinner included, a festive Easter lunch, a piscatorial dinner on Easter, as well as an individual tranport all for EUR 169/person.
For those who prefer other type of destination, the agency comes also with offers for foreign destinations, such as Rome, Athens and Dubai.
A three-night accommodation in a three-star hotel in Rome, with two-bed room, breakfast included, flight ticket and  hand luggage costs EUR 235/person, while in Athens, an accommodation for three nights in a three-star hotel, with breakfast included, flight ticket and hand luggage reaches EUR 199/person.
In Dubai, a seven-night accommodation in a four-star hotel, with breakfast included, flight ticket, hand luggage and transfers, reaches EUR 599/person.
The tourists who want to choose a more exotic destination, Krabi (Thailand) is the offer that the agency provides. A seven night accommodation in a two-bed room, with breakfast included, flight ticket, hand and  luggage and transfer reaches EUR 899/person.
According to tourism agency Eturia, the demand for extra-European holidays increased by 40 percent, compared with 2017.
"Surprisingly, compared with the last year, Eturia registers an increase by 40 percent in the holidays demand this year in extra-European destinations, this thing determines a record of clients in tours outside Europe," says Sorin Stoica, CEO Eturia.
For this year Romanian tourists who decided to go abroad have chosen Easter active holidays, in destinations such as Peru, China, South Africa, or leisure holidays segment, such as Maldives, Dominican Republic and Cuba.
The prices range according to the type of holiday, so that for a beach stay the tariffs start from EUR 1,990/person for seven-night accommodation with all the services included, while for tours in extra-European destinations the tariffs start from EUR 1,350/person for a tour of 8 days that includes the most important attractions for the respective countries.
"We observe that Romanians have started to spend their time and budget on this new segment and that they prefer extra-European tours instead of city-breaks," concludes Stoica.
Christian Tour agency also comes with Easter offers for seniors, who can choose destionations like Sibiu, Sovata or Iasi. An Easter holiday in Sibiu for 4-night accommodation in a guesthouse of three stars, with breakfast and dinner included, transportation, as well as tours included, such as Sibiel tour and visit to Museum Astra, reaches EUR 243/person.
The holiday in Sovata can be celebrated at a three-star hotel for 4 nights, with breakfast and dinner included, as well as a festive Easter dinner and guided tour to Praid Salt Mine, al for EUR 265/person.
The Easter in Iasi can be celebrated in a four-star hotel for four nights, with breakfast and dinner included, with a festive Easter dinner including traditional dishes from Moldova, as well as guided tour to the monasteries, and transportation included. All for EUR  265/person.
It may be concluded that Easter holiday is the perfect occasion to travel and learn more about the Romanian and foreign traditions. And you can choose from a variety of offers, whether they are from an agency or the ones that you search for by yourself. The most important is the traveling spirit, no matter the age.
Main photo credit: Dreamstime