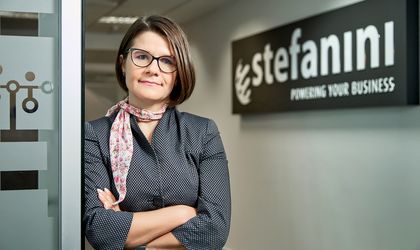 Eliza Irimia joins IT solutions company Stefanini as financial director for EMEA. From this position, she will coordinate the company's financial departments in 11 countries and the accounting, analysis, budgeting, reporting and procurement activities.
"Passionate about the financial and the engineering fields alike, and with extensive experience gained in renowned market companies, Eliza was the ideal person in the right place for us. We trust that her analytical thinking and strategic vision will help maintain the company's financial health and improve our overall performance, " says Manuel Frade, CEO Stefanini EMEA.
Prior joining Stefanini, Irimia worked for Vodafone Romania, where for 13 years she held various management positions, from Planning & Control manager for three of the company's departments, head of the Internal Audit Department and then head of Finance for Vodafone Shared Services Romania. She also taught at the University of Economic Studies for a period of 2 years.
"Legislation, taxation and fiscal policies are generally areas undergoing frequent changes and with many differences from one country to another, so the proposal to coordinate Stefanini's financial departments in 11 countries seemed to me like an extremely interesting challenge. However, I have a young dedicated team by my side – 25 people at the EMEA level, and that will help us accomplish all our tasks successfully," says Irimia.
Irimia has a PhD in Economics – Corporate Finance. She is also a graduate of the Polytechnic University of Bucharest, specializing in Engineering, and holds an ACCA certification.
Stefanini has operations in 39 countries and 88 offices around the world.