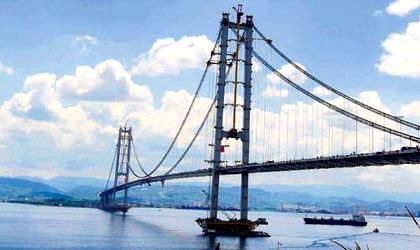 ArcelorMittal Galati provided  34,000 tones of steel that were used for the construction of Osman Gazi bridge. They were transported in four lots in an extended range of bulks and breadths, according to Agerpres.
"The project had a special significance for us, given its magnitude. The thick lamellas from Galati are able to manufacture and deliver products for many applications. For the Osman Gazi bridge we created technical and commercial customized solutions, " said Bruno Ribo, the general director of the European flat products division, South-East of ArcelorMittal.
The bridge, that crosses the Izmir gulf in the North-West part of Turkey, is part of a highway project of 140 km. The consortium Nomayg was in charge for the project and will be involved in its maintenance over a period of 23 years. The consortium assigned the bridge construction to the Japanese company IHI Corporation based on an auction.
Cimtas was selected as a unique producer, both for the steel segments which assures the bridge suspension, as well as for the support pillars. The bridge projection was made by the industrial design firm Cowi from Denmark.
Having a total length of 2,682 meters and a maximum openness of 1,550 meters between the main pillars, the Osman Gazi bridge is the longest suspended bridge from Turkey, the second as length from Europe and the forth at global level.
Georgiana Bendre