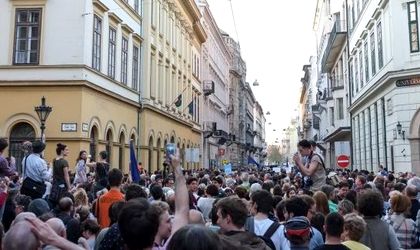 The Society for Romanian Studies (SRS) has issued a statement in support of the Central European University in Budapest, after reports based on anonymous government sources that lawmakers may discuss a proposal on Monday that would change higher education regulations that would make it impossible for CEU to continue to function in the Hungarian capital.
"(CEU) sees its existence threatened by the wave of populist and illiberal politics that have swept the region in the last few years. Academic life in Turkey and Russia has already been disrupted by those governments' interventions. Now it seems to be the turn of the Hungarian government to interfere with CEU's academic freedom and smooth functioning. This comes after months of the Orban government's harassment of NGOs and the CEU, directed against what this government perceives as one of the last bastions of liberal thinking in a country that has gradually come to embrace authoritarian illiberalism.
We, in the Society for Romanian Studies, feel that is it our duty as colleagues and academics to signal our regret and dismay about the attack on CEU. We offer our solidarity and support in this moment of crisis. We, members of the Society for Romanian Studies, are connected in so many ways to this Center of research excellence in Eastern Europe some of us being now or in the past, students, alumni, professors, mentors, and researchers at this University, that it is impossible to stand idly by".
Society for Romanian Studies (SRS) is an American based professional association, founded in 1973, with the aim of the academic promotion of research on Romanian culture and civilization. SRS organizes on a regular basis international congresses that reunite researchers for multiple research areas on Romania and the Republic of Moldova. The first meeting took place at the Sorbonne, in Paris, in 1986, other editions taking place in Romania (Babes-Bolyai University – Cluj-Napoca – 1997, Lucian Blaga University – Sibiu – 2012, Faculty of Political Sciences, University of Bucharest – 2015).
Thousands rallied in Budapest over the week-end to show support for the university.