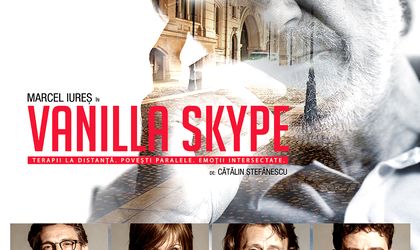 A theater show involves, most of the times, a communication between the audience and the actors only during the representation, but its impact stays long after the direct interaction ended. At the same time, some shows succeed in building a strong relationship, as it's the case of Vanilla Skype. For this unique mosaic-story, written and put on stage by Catalin Stefanescu, Golin and MullenLowe rewrote and maximized the "script" of the interaction between the actors and the public, by organizing a casting among the spectators.
The spectators from the cities included in the tour had the opportunity to win a place in the front rows of the hall by taking part in a casting organized for the first time on the show's Skype account. The participants were invited to answer a set of questions regarding their passion for the theater and the behavior at a show, addressed by the great Romanian actor Marcel Iures, during a video recording.
"The meeting with the friends from Golin meant very much for our tour. We found some creative and enthusiast partners that became part of the Vanilla Skype project's team. Not only they understood the nature of what we are trying to do in this show, but their contribution developed a new component of our project, offering it not only visibility, but also an expression totally unexpected," said Catalin Stefanescu, the author of the text and the director of the Vanilla Skype show.
"This approach generated a lot of curiosity and positive reactions, numerous endorsers getting involved in promoting the show – the actors from the distribution and many bloggers helped the future casting participants to pass the Skype test and win their place in front of the stage," explained Ana Trif, senior manager at Golin.
"The text of the theater piece Vanilla Skype was especially written for the actors in the distribution and uses a modern communication technique in order to gain a better public involvement in the show, especially the younger one (the characters are having online therapy session)," added Andrei Munteanu, Group Creative Director, MullenLowe.
Having a great cast – actors such as Marcel Iures, Andi Vasluianu, Medeea Marinescu, Marius Manole, Vlad Zamfirescu, Alexandru Ion, Mircea Postelnicu and Vladimir Purdel, the show was promoted during the ACT theater tour, supported by BRD – Groupe Société Générale and that took place in the September 2 – 19 period in Ploiesti, Craiova, Piatra Neamt, Bacau and Iasi.
Catalin Stefanescu and Alexandru Ion, co-founder of the T.E.T.A Association, were involved in the promotional campaign of the show.
The Golin team that worked on this project included: Ana Trif (Senior Manager), Oana Cojocaru (Senior Media Manager), Raluca Manaila (Senior Media Associate), Alexandra Popa (Media Associate) and Raluca Duta (Chief of The Bridge), Bianca Stoica (Junior Digital Associate) and Alexandra Alboiu (Digital Assistant), while MullenLowe was represented by Victor Oprisan (Group Creative Director), Andrei Munteanu (Group Creative Director) and Nicoleta Grigoriu (DTP Designer).
Romanita Oprea