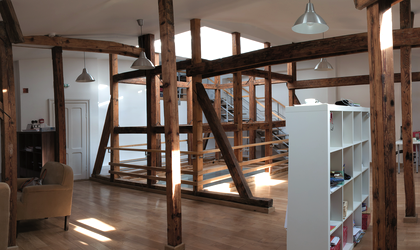 The new technocrat government has come with significant changes, among which is a special focus on what's happening regarding our national heritage. It seems that collaboration between ministries and institutions has positively developed and they are trying to preserve and protect whatever is left nationwide by finding concrete solutions and hiring key-persons to make it work. BR dug the field with the specialists to find out what still stands and what's going to be changed.
Oana Vasiliu
The real estate business
According to ESOP Consulting, in 2015-2016 there was an increase in the number of investors interested in buying old historic buildings, from the prewar period, located in central areas, which they renovated to international standards, and introduced them to the market. In the past three years, foreign and local investors have invested over EUR 100 million into these kinds of properties. For these properties, rent costs from EUR 12-18/sqm/month, specialists say.
Among the investors are also specialized groups in real estate investments, such as NEPI, Global Vision, Iberia, Hercesa, S+B Gruppe. "Out of 2,058 historical buildings in Bucharest, meaning almost 926,100 sqm, a third, 277,830 sqm are renovated or work in progress and have commercial potential," notes the ESOP Consulting experts in a press release.
"A centrally-situated property with valuable architecture is a medium to long-term investment, which keeps its value in time. There is a good chance of increasing the value of these properties. As a trend, I noticed that in the last two years larger buildings of over 1,000 square meters were chosen as an investment, which required an increased budget for renovation works, which may serve mixed destinations. Among the potential tenants interested in such buildings are embassies, cultural institutions, marketing and advertising companies, consultancy firms, law firms, medical clinics, private educational institutions and other companies operating in the field of professional or personal services," says Alexandru Petrescu, managing partner ESOP Consulting / Corfac International.
A pioneer on this market was the Romanian investor Ion Lazar, who renovated the old Glucose Factory and transformed the historical building into an office building 20 years ago. The first tenant was Unilever, which signed a 15 years contract, explains the officials from ESOP.
The ultimate property of this kind on the market is the one owned by FF Group Romania, located in the Magheru –Universitate area, with maximum visibility, with a total built area of 4,858 sqm. The building has two elevators, 24-hour security, CCTV, BMS, four pipe cooling systems with fresh air and central heating. Interior spaces are bright with a height of about 3 meters to the ceiling, specific to old villas, explains ESOP in the same press release.
Also, Magheru One is an interesting case study for real estate. The building was renovated with a budget of EUR 20 million by S+B Gruppe, transforming it into a mix center, both office spaces and commercial areas. The building has 3,828 sqm and seven floors plus 80 parking spaces.
Business Review also talked with officials from the www.imobiliare.ro portal to find out what's for sale and rent during this period of time. "Currently, there aren't too many properties listed. We have 11 apartments in historical buildings and 18 villas for sale, respectively 27 properties for rent. What's really impressive is the price, for example, we have a 15 room villa in the Unirii area which costs EUR 12,000 per month," said Daniel Crainic, head of marketing & communications of www.imobiliare.ro
"When it comes to investment, it depends on the purpose of the investment. What we should take into consideration is that at the end of a crisis period, the prices of the properties have split in half, and this happened also for these kinds of properties. Depending on the state of the building, the price, the geographic location, the investment is more likely to be profitable," explained Daniel Crainic for Business Review.
Read also: Bucharest's silent tragedy – patrimony buildings | Who is saving them nationwide
The tenant's perspective
Serban Radu, owner of the Carturesti Bookstore chain, opened up last year in an emblematic building, known as Chrissoveloni house, a new bookstore. "Jean Chrissoveloni, the owner, has invested in the restoration, while we were the ones who arranged the interior of the building, as previously agreed with him. I calculated that the team had exceeded 20,000 hours of work just for this project in 14 months and involved 75 people," explained the owner to BR.
"A heritage building adds texture to the living space of a brand. It leads us to another time, provoke us to imagine the lives and the stories that were decanted into what we call "the personality" of a place. We believe that our readers from Carturesti bookstore situated in the heritage buildings come here also for the experience of discovering the space and for the immersion into other times," adds Serban Radu.  Asked about the disadvantages of having a business in such a building compared to rented spaces in shopping centres, Carturesti owner says that the most common are the figures related to traffic and the need to attract customers. In a mall, tenants have the security of a steady stream of customers.