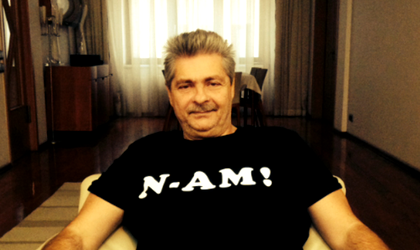 Controversial businessman Sorin Ovidiu Vintu, who is already in jail, has been sentenced on Tuesday by the  Court of Appeal in Bucharest to eight years in prison for money laundry for the collapse of the ponzi scheme fund FNI.
The judges approved the appeal of the General Court and increased the punishment of Vintu from six years and four months as the Bucharest High Court ruled in February 2015 to eight years of prison.
However, the Court acquited Vintu for embezzlement crime.
Moreover, it ruled the special confiscation from Vintu of the amounts of RON 13.74 million and USD 7.28 million equivalent in RON and BNR exchange rate, and the insurance distraint until obtaining these amounts.
The decision is definitive.
Currently Vintu is in prison, after receiving a jail sentence of six years and four months in another file regarding the bankruptcy of Petromservice.
On September 24 2012, Vintu was prosecuted by the General Court near the High Court of Justice for money laundering and instigation to embezzlement in the National Investments Fund (FNI) file.
The file started from the researches of the legal institutions in the crime files regarding the National Investments Fund, Agricultural Bank, Bank for Investments and Development and Romanian Bank Rate.
The prosecutors say that as a result of the analysis of the crimes, part of which are finished by definitive law decisions, some convergence points have been established.
The General Court said that the analysis of these files emphasized that the crimes were judged in separate files, leading to "the passing by of some temporal aspects and their reasons."
The evidences revealed that Vintu determined on purpose Nicolae Popa, president-general director of SC Gelsor SA and executive director SC SOV Invest SA, to embezzle for FNI RON 112.28 billion and RON 25.11 billion difference from the unreal time growth of unit fund, in the period before FNI fall, December 1999-March 2000.
Th General Court showed that Vintu acted on purpose to use the amounts in his own interest, the evidence results from the temporal development of acts and from his actions.
The amounts redempted from Popa's  investor card were used entirely by Vintu to acquire some properties, for cash withdrawal or current activities of the companies under his coordination.
Georgiana Bendre