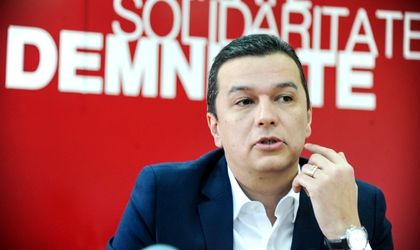 Romania's ex-minister of communication, Sorin Grindeanu, 43, has received on Friday the green light from president Klaus Iohannis to be PM candidate and to seek the vote of the Parliament for his cabinet.
The president's decision puts an end to days of political crisis that erupted after the head of state refused to designate Sevil Shhaideh as PM candidate.
Iohannis had asked the political coalition PSD-ALDE to come up with another candidate for the position of government head.
Starting June, Grindeanu has been the president of the Timis County Council, after serving as minister of communication in the government led by Victor Ponta, between December 2014 and November 2015.
The new Prime minister-designate is a member of the left wing Social Democratic Party (PSD).
At present, the PSD and the Liberal and Democratic Alliance Party (ALDE) hold a simple majority in Parliament and the two parties are set to negotiate with another parties to make sure that Grindeanu's team gets sworn into office.
The PSD won the general elections from December 11, getting 45 percent of the votes. The liberal party PNL, which is close to president Iohannis, got less than half of the votes compared to the social democrats. The PNL is also grappling with a leadership void after Alina Gorghiu resigned from the position of president following the elections' result.
Grindeanu did not elaborate on his plans as the future head of government, but underlined the fact that he will work with PSD, the party led by Liviu Dragnea, to form the cabinet.
Ovidiu Posirca