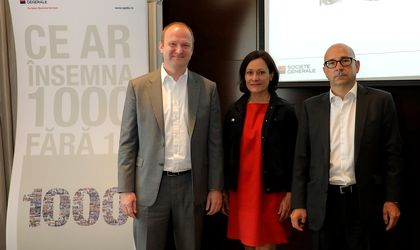 Societe Generale European Business Services, the shared service center of French Societe Generale Group, which delivers services in various business fields, has reached 1,000 employees in Romania due to an accelerated growth over the last three years.
This center ranks now among the 10 largest shared service units in Romania, a sector which attracts more than 7 percent of the working population in Romania.
"We are recruiting from all the market segments. Since the beginning of the year we have recruited more or less 150-200 persons and until the end of the year we expect to hire around 10 percent more," said Philippe Garcet – CEO Societe Generale European Business Services.
"We chose to develop our operations in Romania, because it's close to our culture and close to our country and due to the talent pool, qualifications, Romanian people speak very well foreign languages, here in Bucharest center they speak eight languages and there are many IT specialists and engineers," said Françoise Mercadal-Delasalles – Group head of Corporate Resources and Innovation.
Out of the 1,000 employees of Societe Generale European Business Services, Finance Shared Service Center counts more than 35 percent, Human Resources Shared Service Center around 20 percent, while over 30 percent of the employees are responsible for IT services.
Societe Generale European Business Services was founded in 2011 and delivered an average year to year growth of 50 percent by adding new services to its portfolio and constantly increasing the number of employees. From only one SSC (Shared Service Centre) specialized in finance in 2011, the company developed into a comprehensive one providing a wide range of activity in finance, HR, IT or back office functions and is currently serving over 35 countries.