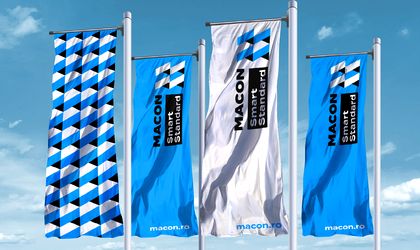 Xella RO, the leader of the local building materials market and the main AAC manufacturer in Romania, has completed the rebranding process for the Macon brand. The new identity reflects the individuality of the brand on the Romanian market and expresses quality accessible to all, efficiency and speed.
The rebranding process of AAC Macon involved a strategic clarification of the brand architecture and a revitalization of the visual identity starting from the trends and alignment with the Xella values. The rebranding facilitated the transition from a company brand to a product brand: Macon. Smart Standard, and the new identity brings with it an attractive promise for construction professionals – quality accessible to all.
"Xella is the main player on the masonry market in Romania. Through the two complementary product brands, we offer our customers a portfolio of durable, efficient and affordable solutions. We are talking about Ytong, the flagship brand of the AAC industry in Europe, which revolutionized the construction industry almost 100 years ago, and Macon, the best-selling AAC brand in Romania, with a history of over 50 years. We want to make a positive and measurable contribution to the environment built in Romania, and this rebranding approach came naturally, with the entry of AAC Macon in the Xella portfolio. Thus, today the Macon AAC has a clear position in the Xella portfolio, with ambitious goals and plans, and, in addition, looks like a contemporary brand, prepared for the needs of the market." Says Marius Dragne, CEO Xella RO.
The rebranding project, signed by Brandient, the most important creator of identity and brand strategy in South-Eastern Europe, included several stages: audit, redrawing of visual identity, drawing of the brand and communication strategy, respectively implementation, a stage that is ongoing at the level of the brand.
The AAC Macon visual identity was inspired by the strategic positioning of the brand focused around a promise of trust, while the new logo was created by merging two ideas, equally present in the brand promise: on the one hand the solidity of the construction with Macon, on the other hand the idea of versatility, multifaceted, of perspectives, also supported by the promise of "Smart Standard". Moreover, identity speaks intelligibly and affordably about solid constructions, about safety, versatility and efficiency treated in a modern key, worthy of the company's assumed leadership.