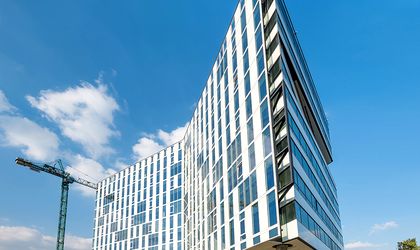 Skanska inaugurates Campus 6.1, the first completed building in Campus 6, a project that marks the expansion of Skanska Romania in the Center – West area of ​​the capital. Campus 6 brings a suite of novelties to the office buildings market in Romania, including the implementation of measurement and monitoring systems for environmental factors, as well as services such as car sharing and bike sharing.
"Campus 6.1 is the wonderful result of a cumulative effort of the entire Skanska team and our partners and customers. Users are the ones who inspire us to build innovative buildings, and Campus 6 is a solution that we bring to the office market in response to the needs of their generation. The delivery of the first phase of the project is part of the sustainable development strategy we have for the West-West area of ​​Bucharest and will continue with the construction of the three buildings that will complete the complex, "says Aurelia Luca, managing director of Skanska Property Romania.
The project includes urban gardens equipped with electrical outlets and Wi-Fi, as well as outdoor spaces designed especially for business and social gatherings, restaurants and cafes with terraces. Employees and partners of companies with offices in the building will be able to meet, work and relax here.
The development of Campus 6 does not stop here, with the project having a total of four stages, with a total rental area of ​​81,000 sqm. 
Campus 6.1 sales were among the largest transactions of the year, CA Immo being the company that bought the building for a total of EUR 53 million. Campus 6.1 is the fourth office building built and sold by Skanska on the Romanian market, after the three phases of Green Court acquired in three tranzactions by Globalworth.