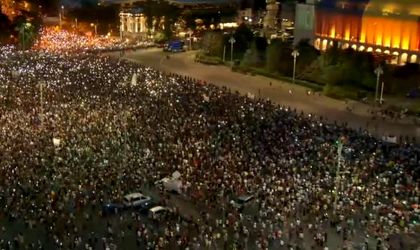 The online communities Coruptia ucide, Resistanta, Insistam, Declic, One Vision: Resist and Reset announced on Facebook, that Sunday, starting at 18.00, another anti-government protest will take place in Victoriei Square, under the slogan Nu cedam!
The communities wrote on their facebook pages the following: 
"We can not go back! Not after the PSD-ALDE has used a device of repression against its own citizens whom in thoery they govern and defend their rights. It is unacceptable, unspeakable, and we can not remain complacent.
We remain in the street until the Dancila Government falls! Leave until someone dies!"
More than 50,000 people returned to Victory Square in the capital Saturday to protest. Unlike Friday evening when the area in front of the Government was the theater of violent intervention by the Gendarmerie, Saturday the demonstration was one without incidents.
Other around 50,000 people also protested in the country demanding the resignation of the PSD-ALDE government in Sibiu, Iasi, Cluj, Timisoara, Brasov and Constanta, Galati, Bacau, Oradea, Piatra Neamt and Galati.