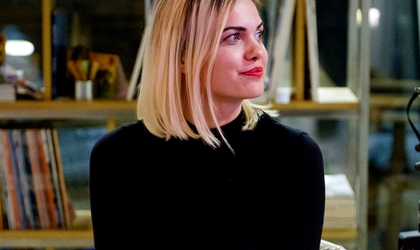 Following in the steps of her colleagues, Ioana Filip (2014,2016) and Catalin Dobre (2015), 2017 is the year Simona Suman will represent McCann at Eurobest festival, the most important regional show in Europe.
She will be part of the gender diversity panel and her presentation "Women in Leadership: Success is a Set-up" will draw its inspiration from the empowerment program for young women in creative industries, called Lady Steps, that she co-founded. The experience within the project inspired her to step on the stage and speak up about gender diversity and the difficulties women face in building careers in the creative industries.
"As part of the panel called the Eurobest Power Hour, I'll be presenting what I believe to be 3 actionable steps in order to promote gender diversity in the creative departments on a global level. I will be speaking together with an amazing group of women who are each championing diversity in leadership through different initiatives and organizations such as SheSays or Girls Talk. I have been passionate about the subject of gender diversity in leadership for a few years, but I have only started to become actively involved with it once I joined Art Director's Club Romania, last year. This is where I found the right platform and the support to promote this message, and I thank my colleagues for championing this cause. Seeing how women in creative leadership are highly underrepresented in Romania, together with Sandra Bold, we decided to create Lady Steps, an initiative designed to empower women at the start of their creative career and help them reach their full potential," said Suman.
Moreover, in December, Suman and Bold will be wrapping up the series of this year's 9 conferences, and are already planning for a new format with bigger and better things in 2018.
Romanita Oprea