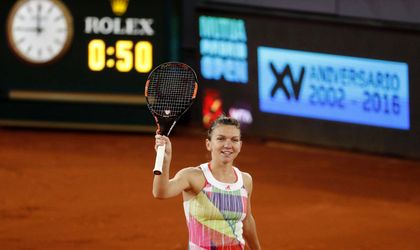 In her second final at Rogers Cup, Simona Halep has defeated WTA No. 12 Madison Keys to claim her 14th career title.
Halep needed one hour and 15 minutes to close the match in two sets, 7-6(2), 6-3. The win will see Halep climb to WTA No.3 after starting off at No.2 and later falling as low as No.7.
Speaking to the press after the match, she described the strategy she used to defeat the American for the second time in as many meetings. "I tried just to put the ball away from her, just to make her run. I think I did it pretty well, and she'd missed. It was really tough for me to make winners today because her ball was coming too hard," Halep told journalists.
"My 'Plan A' is just to go and to be aggressive. But, as I said, was impossible. I knew that I have to hit balls back and not hit slowly because she can come and attack them. I just wanted to be strong on my legs and just to open the court. That was everything in my mind when I started to play," she concluded.
On the road to the final Halep defeated Daria Gavrilova (WTA No. 45), 6-2, 6-3, Karolina Pliskova (WTA 17), 6-3, 6-3, Svetlana Kuznetsova (WTA No. 11) 3-6, 6-1, 6-1, and Angelique Kerber (WTA No. 2), 6-0, 3-6, 6-2.
Halep, who was cheered to victory by numerous flag-waving Romanians, said she enjoyed very much being in the Canadian city. "I like being here in Montreal a lot. It feels like being in Europe, like I've said many times. With all the Romanians, I felt like I was at home. Many people were coming every day, not just today. It was an amazing atmosphere down there.
"The man that announced us on the court today said two words in Romanian, so that motivated me a lot. I said that I have to win."
The Romanian has won three titles in 2016, with the previous two on clay. She defeated Dominika Cibulkova in two sets, 6-2, 6-4, to claim the Madrid title, and Anastasija Sevastova 6-0, 6-0 for a win in Bucharest.
Halep's win in Montreal came 40 years after Nadia Comaneci received the first 10 in the history of gymnastics at the 1976 Montreal Olympic Games. "It feels nice that after 40 years I won here in Montreal. It's a nice thing for Romanians. I'm happy that I could do it."
Georgeta Gheorghe