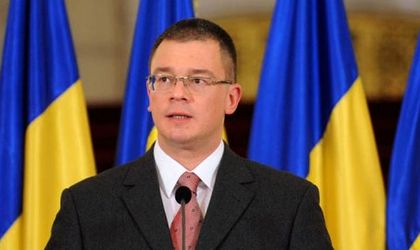 The surprise resignation of former Foreign Intelligence Service (SIE) head Mihai Razvan Ungureanu is still causing controversy. While President Klaus Iohannis mentioned health problems as the reason for Ungureanu's resignation, many voices are still calling for an official explanation.
According to President Klaus Iohannis, Ungureanu submitted his resignation on Monday, around noon, citing personal reasons. "He mentioned personal reasons and I do not have any extra information, but given that SIE must work permanently and to always be ready to intervene in any situation it seemed important to act very quick. Therefore, as soon as I received this resignation I accepted it", Iohannis said. "I understand he has a medical situation that prevented him from coming to Cotroceni in person. We will urgently clear this situation as soon as he gets better," Iohannis said on Monday at the Cotroceni Palace.
The president also announced he will nominate a successor after the parliamentary elections. In the meanwhile, the service will be headed by General Silviu Predoiu. "I believe this Parliament will be very busy with elections (…) therefore I believe I will not overload their agenda with the appointment of a new SIE director. Things are under control, General Predoiu previously served as interim head and it is not a situation that calls for a very urgent intervention from Parliament, other than to acknowledge the resignation of Mr. Ungureanu. Probably, I will make a proposal to the new Parliament after elections," said the head of state.
Vice PM Vasile Dincu said he was surprised to hear about the resignation of Mihai-Razvan Ungureanu, and stressed that things happening behind the curtain will not be revealed. "I was surprised. (…) We do not have any proof, so to say, in the public space, for an explanation. I believe the control committees, perhaps, of the intelligence services in the Parliament to give us a version, but, as a rule, these behind-the-curtain things are not revealed. I understand he will not be replaced right now, only when the new Parliament is here. And it is very difficult to comment in these situations. Of course this news is surprising," Vasile Dincu told RFI.
On Tuesday, PSD chairman Liviu Dragnea said he received a call from the former SIE head a few minutes after he resigned, who told him he had resigned due to health reasons. "I said on Facebook that if this resignation is the result of a personal conflict, of an institutional conflict, if there are other causes that led to this resignation, it is not alright and things should be clarified. Within a few moments I was called by Mr. Razvan Ungureanu, I don't believe this is a secret (…). Perhaps he saw my posting (…) and he told me the reason for his resignation was poor health, it's not something else, I wished him good luck and told him (I hope) there wasn't any other reason. And I understood the Romanian president will way this, that it was due to health reasons that he resigned. I have not seen this statement from the Romanian president, on the contrary," Dragnea told broadcaster Antena 3.
"Moreover," Dragnea said, "I was last evening the DNA head, who suggested, in an interview for a broadcaster, that somehow SIE did not do its job and might have hidden some evidence or might not have been of help, meaning some matters which, if true, would be illegal. This is something very serious. We are talking about SIE in a regional context that is extremely volatile. There are areas that are boiling. And this should be clarified sooner or later, it is not something that should be kept in a drawer," the PSD head added.
Georgeta Gheorghe