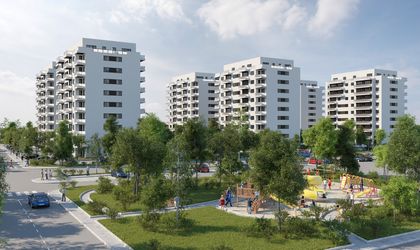 Israeli-based real estate developer Shikun & Binui RED has sold 50 percent of the first phase from the residential compound New Point, located in Pipera, north of Bucharest and is to start construction works for the second phase.
"We started construction works in November 2016 along with pre-sales for our project New Point in Pipera. At the end of the first semester of 2017, our sales team has concluded contracts for 70 units, representing over 50 percent of the first phase from this compound", said Favi Stelian, Managing Director, Shikun & Binui RED Romania, adding: "Up to now, we have a percentage of 15 percent investors and 85 percent final clients in our sales records, the double studios and one-bedroom apartments representing the best sold units. Due to high demand, we will start in July the second phase of the project, consisting in another two blocks".
Shikun & Binui RED Romania already foresaw the development of the commercial area Floreasca – Barbu Vacarescu and building its first residential project, City Point in the vicinity of its Bucharest office. Due to increasing demand for new, modern living spaces, the company has started its second project, New Point, in Pipera, close to the American School.
The first phase of the New Point project required an EUR 7 million investment and consists of two blocks of flats totaling 136 apartments, with a varied mix: double studios, one and two-bedroom units with different surfaces and space planning. The two blocks o flats will be delivered in the first quarter of 2018.
Given the high demand for the units in the first phase, the developer decided to begin the second phase, with construction works due to start in July. The second phase consists of two blocks of flats with 136 apartments and will add another EUR 7 million to the investment. The estimated date for the delivery of the second phase is the end of 2018.
The developer uses its own funds and has worked with three partners, namely developer Danya Cebus, architecture firm ASCO and advertising agency The Skills.