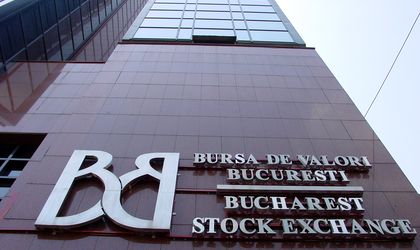 The total shares transactions value last week at Bucharest Stock Exchange (BVB) reached RON 465.85 million, due to increased activity on Albalact shares, which were higher by 2.94 percent than the previous week, according to an analysis of Plus Capital.
The total exchanges were worth RON 477.07 million in the analyzed period.
The highest exchanges were registered on Albalact (ALBZ) shares, worth RON 326.31 million, Fondul Proprietatea (FP) valued at RON 45.6 million, Banca Transilvania worth RON 37.6 million, BRD-SG worth RON 16.02 million and Romgaz worth RON 11.3 million.
The structural products transactions were worth RON 9.24 million, the bonds were RON 1.89 million and the unit funds were RON 0.09 million.
A positive evolution was registered on 27 shares, while 8 had stable evolutions, and 41 dropped. The highest increases were registered on Stirom shares (+20.56 percent), Uztel (UZT) with 18.85 percent, while the highest decreases were on Vrancart shares (14.53 percent ) and Electrocotact (9.91 percent).
Georgiana Bendre