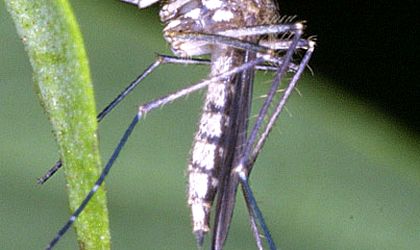 Health Minister Cseke Attila has announced on Monday that two people have died due to the West Nile virus and five others were hospitalized after being infected. European forums and health commissions have been informed accordingly. The Health Ministry has made recommendations for protection improvement against the mosquito carrying the virus.
The seven cases of West Nile infestation occurred in Bucharest, Constanta, Dolj, Galati, Sibiu, Teleorman. The two people who died from the mosquito-borne virus were 75 and 79 years old, according to Mediafax.
As stated in a press release from the Ministry of Health, all of the West Nile cases registered so far in Romania appeared in the case of people over 30 years old. The two deaths are considered to also be a cause of old age and the previous existence of chronic diseases. 
According to the Ministry of Health, the main symptoms for West Nile infestation are: fever, headaches, asthenia, vomiting, memory loss, joint or muscular pains, or other conditions appearing between 3 and 7 days from a mosquito bite. In case of occurrence of such symptoms, it is highly recommended to report immediately to a doctor.
The disease is not contagious and can only be caught from a specific mosquito carrying the virus. Children are usually immune to the disease. Adults are the most exposed to this infestation, especially if they have a background of disease sensitivity or present associate illnesses.
As means of prevention, the Health Ministry recommends avoiding exposure to mosquito bites, by wearing long-sleeved shirts and trousers. The use of chemical repellents is also presented as a solution. Mosquitoes should be prevented from entering homes and water residues from the vicinity of dwellings should be drained.
Other cases of West Nile infestation were also registered in Russia, with five deaths, and Greece, with eight deaths. In Russia, the number of mosquitoes has increased alarmingly due to the recent torrid temperatures and the previous heavy rainfalls. In Greece, the epidemic's prospects are that of extension until the end of September, as Mediafax reports.
Corina Dumitrescu